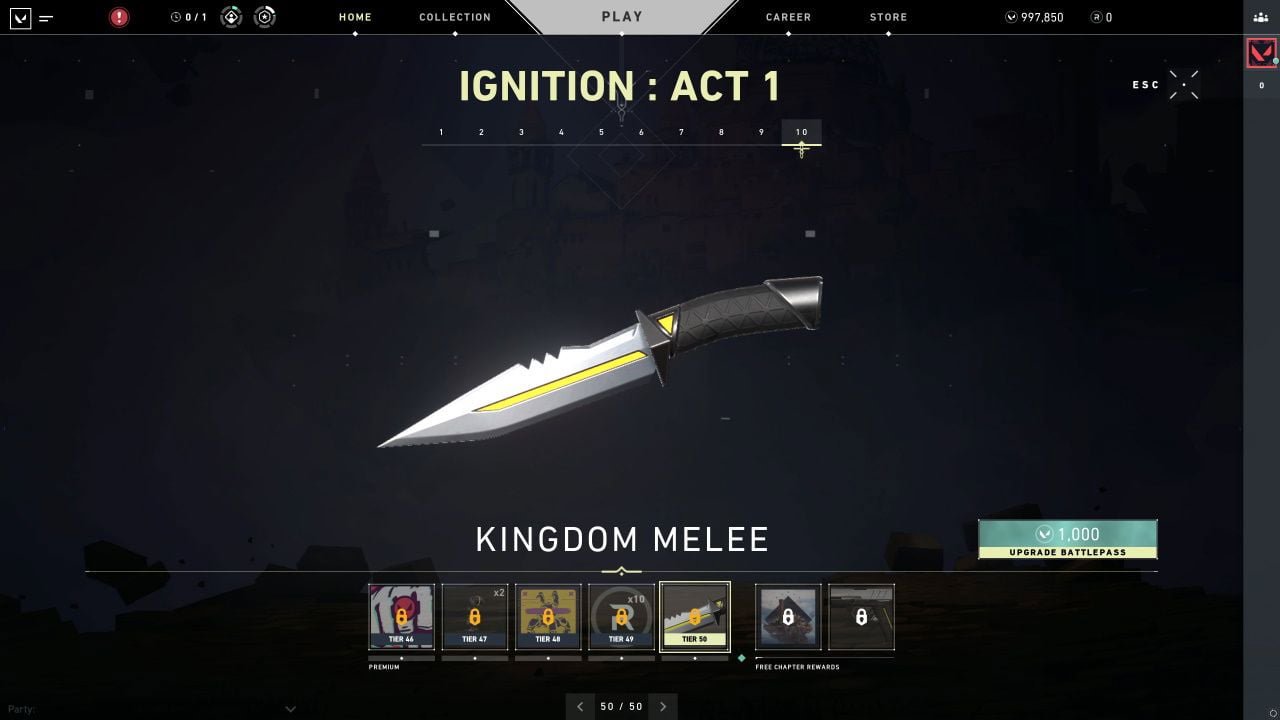 Like those in other games, the Valorant Battle Pass is designed to reward people for the time they spend playing. As you work your way through the 50 tiers, you unlock a range of both free and premium cosmetic goodies.
Riot Games recently confirmed that this first Battle Pass will be ending on August 4th. This announcement came as a bit of a shock to some players, who were left worried that they won't have time to finish the pass.
The Valorant community have complained about the "grindy" nature of the Battle Pass before, but this new time limit has redoubled their concerns. Some gamers who religiously slog through 5 matches per day are still yet to earn that coveted Kingdom Melee.
Unfortunately, progressing through the pass requires a whole heap of XP. Daily and weekly challenges grant a small amount, but nothing too substantial. Similarly, the XP rewarded at the end of a game can feel a bit disappointing.
Desperate to unlock those last few tiers, some players have suggested the developers run a Double XP event. Whilst this would certainly help out, it's probably not worth getting your hopes up.
Sitting at level 33/50 on Valorant's battle pass with 8 days to go. ~$50 to buy the remaining rewards.

Although I missed about 9 days while relocating in June, Valorant is pretty much the only game I've played for the last two months. pic.twitter.com/atNgK1uJLH

— Evan Lahti (@ELahti) July 27, 2020
Whether Riot will rethink the structure of the next Battle Pass, we will have to wait and see. It is possible that they intended this to be a real grind, in order to make reaching the end feel more special. At launch, Valorant's Revenue Lead, Joe Lee, stated that the pass should take roughly 100 hours to complete.
Regardless of Battle Pass woes, it's exciting to know that Episode 1, Act 2 is fast approaching. Although nothing official has been revealed, the new Act and Battle Pass should drop together, after August 4th.
Executive Producer, Anna Donlon, previously explained that they are aiming to release a new Agent at the beginning of each Act. This means we could see a brand-new playable character with their own unique abilities very shortly.
We will keep you updated as details regarding the next Valorant Act and Battle Pass are made public. Don't forget to follow us on Twitter at @ValorantTracker!
Comments