What a week. Many changes, improvements, and some pretty new stuff. Let's get to it!
Hyper  Scape Tracker Beta Release
We loved the game since the moment it was shown, and so many of you. After many requests, we finally released our Hyper Scape stats site.
Currently, you can search for your Uplay nickname to find yourself. In the player profile, you can check your Lifetime, Squad, and Solo stats, and also your Career Bests, based on your most performing matches.
We are currently working on personal match history improvements, performance graphs over-time, challenges, console support, and ranks to all the stats.
Modern Warfare and Warzone Database Home Page
Our Database for Modern Warfare and Warzone continues to update.  But this week, we've worked on a brand new Home Page for it, so when you start your navigation, it will be even easier to find yourself. Check it out!

Rainbow Six Siege Tracker App Issues Are Fixed
Since the patch last week, we saw some weird behavior. Some fixes made on the Overwolf API side, but we also need to make our improvements. It took a few days, unfortunately, but the fix was released. Please let us know if you have more issues!
Fortnite Updates
Last week we released many changes, but this week we introduced something truly unique!
We are now showing you Arena Division in your main profile, and we also made some improvements to the Arena page. Check a demo profile.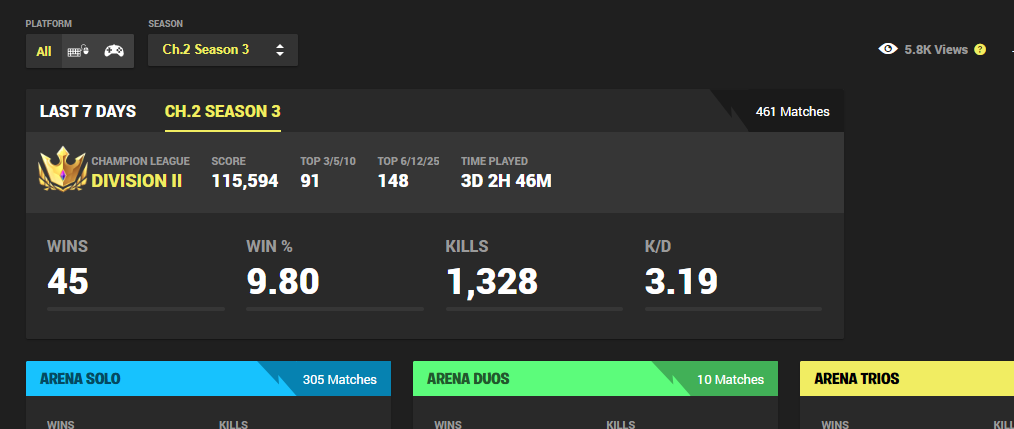 That's it for this week! Share with us your feedback, and let us know what you think! Don't forget to follow us on Twitter and Instagram to get all the latest TRN news, announcements, and data insights.
Comments