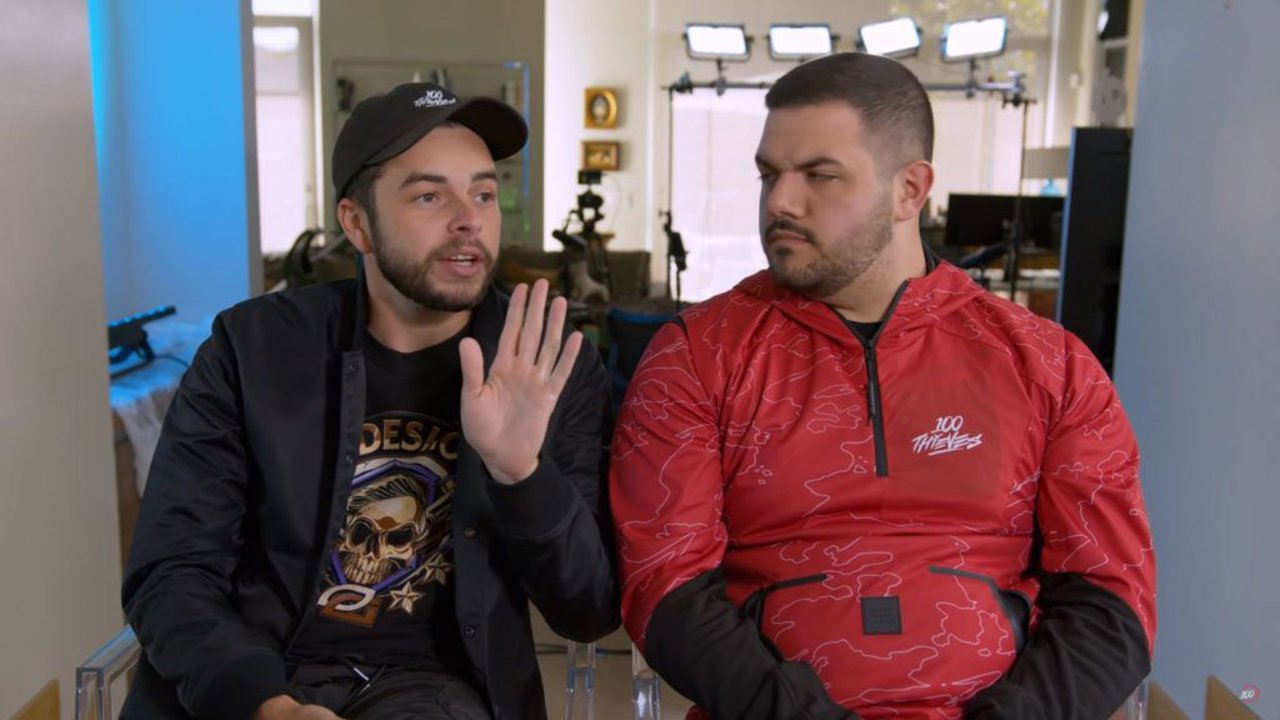 When you tune in to the Courage and Nadeshot show podcast, you never quite know what you're going to hear, and that's why we love it. In a recent episode with special guest Federico "Fedmyster" Gaytan from entertainment group, Offline TV, conversation turned to Valorant.
Matthew "Nadeshot" Haag and Jack "Courage" Dunlop are two people that live and breathe gaming. Whilst it's too early to know if 100 Thieves will be looking into signing a professional Valorant team, it's interesting to hear how these guys feel about the game simply as fans and future players.
Although Fedmyster is more known for his IRL or "Just Chatting" streams, he still loves to game. He mentioned that CS:GO never really piqued his interest, but that he likes the way that Valorant has incorporated Agents and abilities.
Courage chimed in, "Listen, I want one thing and one thing only. That's a good ranking system and replayability". He has recently been open about how skill-based matchmaking has ruined his experience in games like Fortnite and Call of Duty, and is hoping that Valorant can get it right.
They agreed that the easiest way for Riot to do this would be to copy over a very similar ranked system to League of Legends. Not only have we already seen this be successful, but from a business point of view it would make it incredibly simple for players to transition from game to game as Riot continue to expand their empire.
Nadeshot also referenced the ranking system as being the most important thing to him. He told listeners "The reason why I'm here today, is because of how infatuated I was with my ranking in Halo 2". The young CEO also went on to detail why he thinks that Valorant could completely take over. "Fortnite was huge, but guess what, nobody in Asia played Fortnite. And PUBG was huge, but guess what, everyone stopped playing it in the US and everyone in Asia kept playing it" he explained. Nadeshot said that it seems Valorant is geared up to reach as many people as possible, and this will make it a global success.
The trio concluded their Valorant discussion by watching the original teaser gameplay footage together. Nadeshot was concerned with how big a part the specialist abilities played in the trailer, hoping that come release, gun on gun gameplay will still be very important. The others were quick to point out that Riot of course wanted to showcase these abilities, as these are the key elements that separate Valorant from other titles.
Overall, they all seemed excited to play and optimistic about what the developers can achieve based on their previous success. I'm sure we will see Courage and Nadeshot streaming plenty of CS:GO over the next few months in order to get their aim on point.
Comments