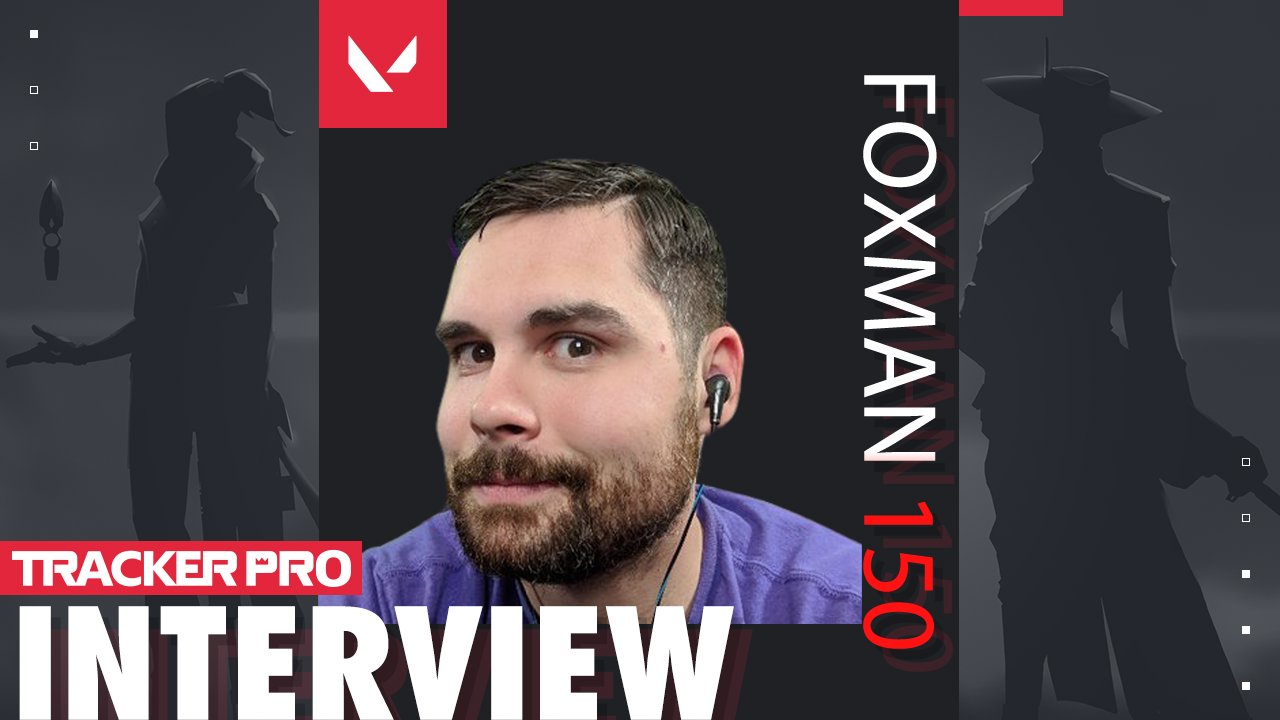 Foxman150 is a Valorant Streamer and Tournament Competitor for Tracker Pro. In our first entry of Tracker Pro Interviews, we dive into who Foxman150 is and what separates them from the competition.
Interview
Tell us about yourself, who are you and what do you do?
I am Nathon 'Foxman150' Fox, I am a variety gamer that tends to focus on the shooter genre of games the most.

Currently, I am focused on Valorant; This game is really holding my attention more than most games. I also am a streamer that streams 6 days a week if everything goes according to plan. Monday through Thursday Valorant, Friday Dungeons and Dragons, and Saturday is either a podcast or random any game, while as of late has been Anno 1800.
Going forward, what do you want to accomplish with your team?
Over the next few years, I want to accomplish a few things; One being that old dogs can still compete on the competitive level. I am 34 this year and want to show that it's not too old to compete in esports. In the long run, I want to have friends to talk games with and enjoy the increased level of competitiveness!
What do you enjoy most about Valorant?
What I enjoy most about Valorant is the level of complexity while still being simple overall. The game has very simple mechanics to the point where anyone can play, but it will takes years to master.

It's like CSGO and Overwatch had a child, and I love both games, so this is a match made in heaven.
How and why did you get into content creation?
I got into content creation in the Winter of 2014 and Spring of 2015, right after my Grandmother passed away. It started out as a hobby to get my mind off of her death; But then it turned into something that I really wanted to do.

After seeing the success of so many people, I hope to be able to turn this into a full-time career. So, I carry on doing the grind and working to grow and network within the community that we are building.
What advice would you give someone looking to get into content creation?
It's a marathon, not a sprint. Do it for you, not for money and fame. If you are doing it for the wrong reasons, viewers will know. [The biggest streamers didn't explode in popularity overnight], they all streamed 5+ years.

Learn to talk to yourself nonstop, no one wants to watch someone just sitting there listening to music and playing games with no interaction at all; Remember, you are there to entertain people, people are not there to entertain you. If you want to just sit there and be interacted with, you should watch streamers.
In your opinion, what does it take to make a team successful?
Communication and professionalism, you have to work hard to play hard. If you are not willing to work and communicate in a professional manner, you are not ready to be with a team.
Tell us about your community
My community if goofy, that is the best way of describing it. A community is a direct reflection of the streamers personality - if you are goofy, they are goofy too.
Where can we find you on social media?
Who is your favorite Agent in Valorant?
Killjoy
If there was one thing you could tell your former, aspiring-creator self, what would it be?
BE CONSISTENT and start earlier! When I was in Iraq for deployment, it really killed my channel growth and I had to completely start over - that was super rough.
---
We'd like to thank Foxman150 for taking the time to speak with us. From everybody at Tracker Pro, thank you for being a part of this journey and we look forward to sharing with you what's to come!
You can keep up with us on Twitter at @TrackerNetwork and @ValorantTracker.
Comments