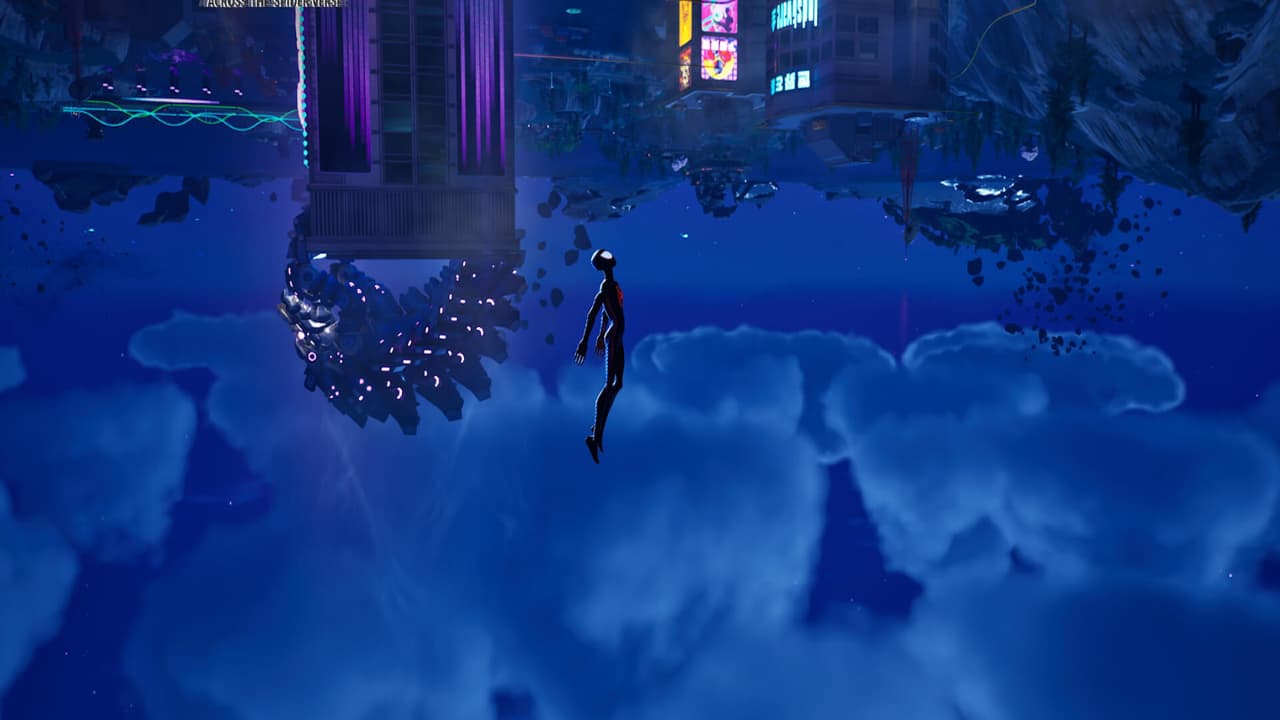 Spider-man swings into Fortnite every now and again to clean up streets as only a friendly neighbor can. While the actual superhero doesn't rely on guns to bring down villains, in the battle royal game, the Web Slinger makes an exception. Alongside the standard weapons you'll find on the map,  you can also pick up his famous Web-Shooters. If you want to swing around like the comic hero, here's where you'll find Web-Shooters.
Where are Web-Shooters in Fortnite?
When you drop into the battlefield, you can find the Web-Shooters in chests, on the ground, or from NPC Spider-Gwen. This means you'll need to do some searching around the map to find the Web-Shooters. As with most new weapons and gear featured in crossovers, Web-Shooters are lootable items found while playing the game. You won't begin a match with them but instead must come across them as you explore or speak with Spider-Gwen in Slappy Shores to trade in gold bars for them.
For the specific Across the Spider-Verse tie-in, the shooters got a name change as well. Instead of the classic Web-Shooter tag for Peter Parker's version, this time around they're called the Spider-Verse Web-Shooters in honor of Miles Morales.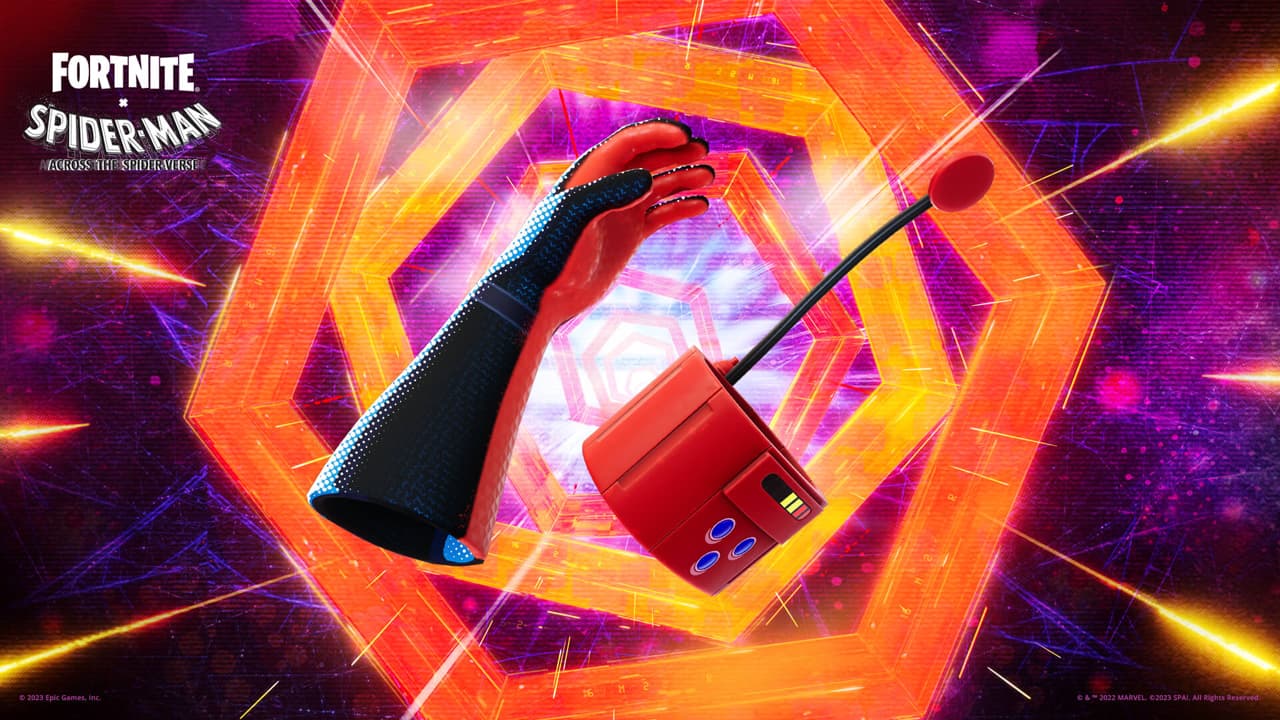 What do Web-Shooters do in Fortnite?
The Web-Shooters are a mythic item in Fortnite that allows the wearer to swing to objects such as trees and buildings. They work in similarly to the Attack on Titan ODM Gear. All you need to do is aim at a structure and use the Web-Shooter to fire a web at it. Hold the button to have your character quickly swing toward the location. Once another target is in reach you can fire another web to swing to the new area. Likewise, you can use the Web-Shooters to attach yourself to moving objects so you can be pulled along. However, keep in mind that while they can be used an unlimited amount of times, they will need to recharge after you use them multiple times in a row.
The Web-Shooters are required to complete week 11 quests. Completing the quests will reward you with XP, while one quest will earn you the Silk & Cologne (EI8HT version) Lobby Track. This Lobby Track features a song from Spider-Man: Across the Spider-Verse.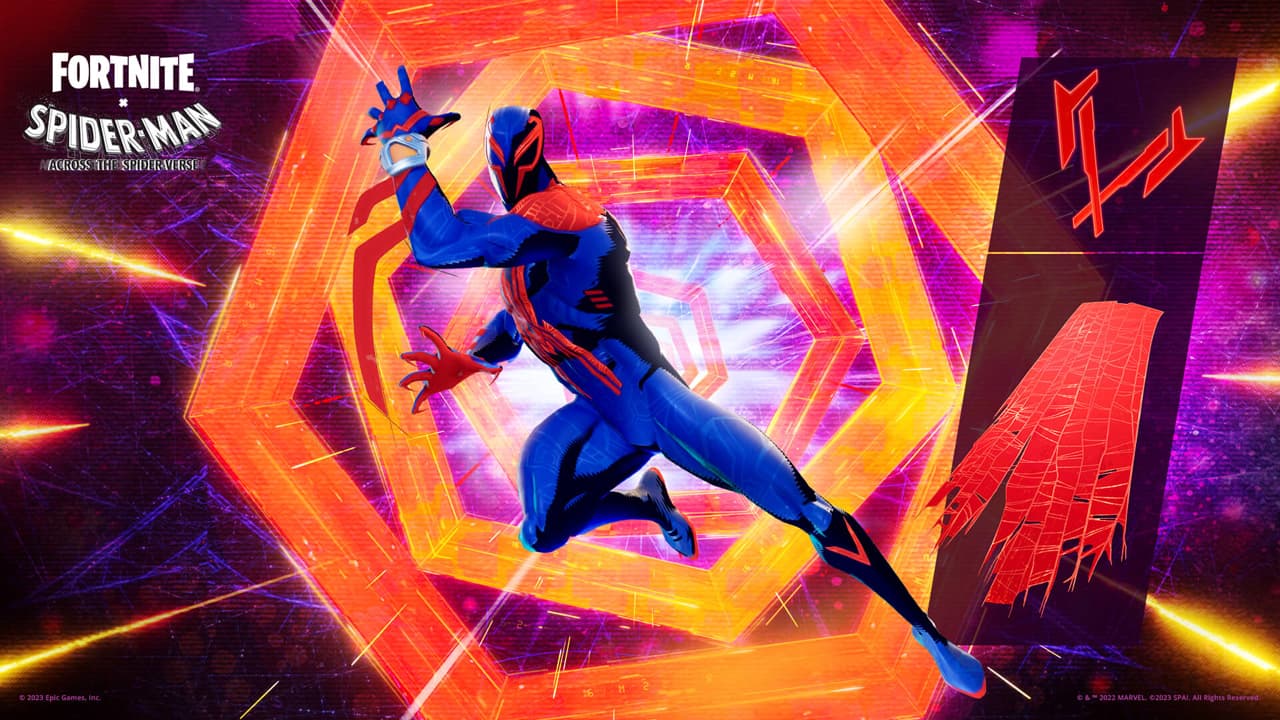 What else is included in the Spider-Verse Fortnite Crossover?
If you really want to play the role of Spider-Man there are several cosmetic items from Across the Spider-Verse you can add to your arsenal. The store includes many new Spider-Man skins, Back Blings, and two new pickaxes you can wield as well. Here is everything you'll find in the crossover.
Spider-Man 2099 Outfit
2099 Web Cape Back Bling
Dual-wield 928 Axes Pickaxe
The Spider-Man (Miles Morales) Outfit
Spider-Verse Portal Back Bling
Spider-Ham's Mallet Pickaxe with the Put 'er There Emote
MEGA City Swing Loading Screen
To keep track of all things Fortnite, check out our official Fortnite stat tracker. You'll find player leaderboards, ranks, and a full list of every Across Spider-Verse item you can find.
Up Next: Fortnite Miles Morales: Spider-Verse Hero Swings Into Battle Royale Game
Comments