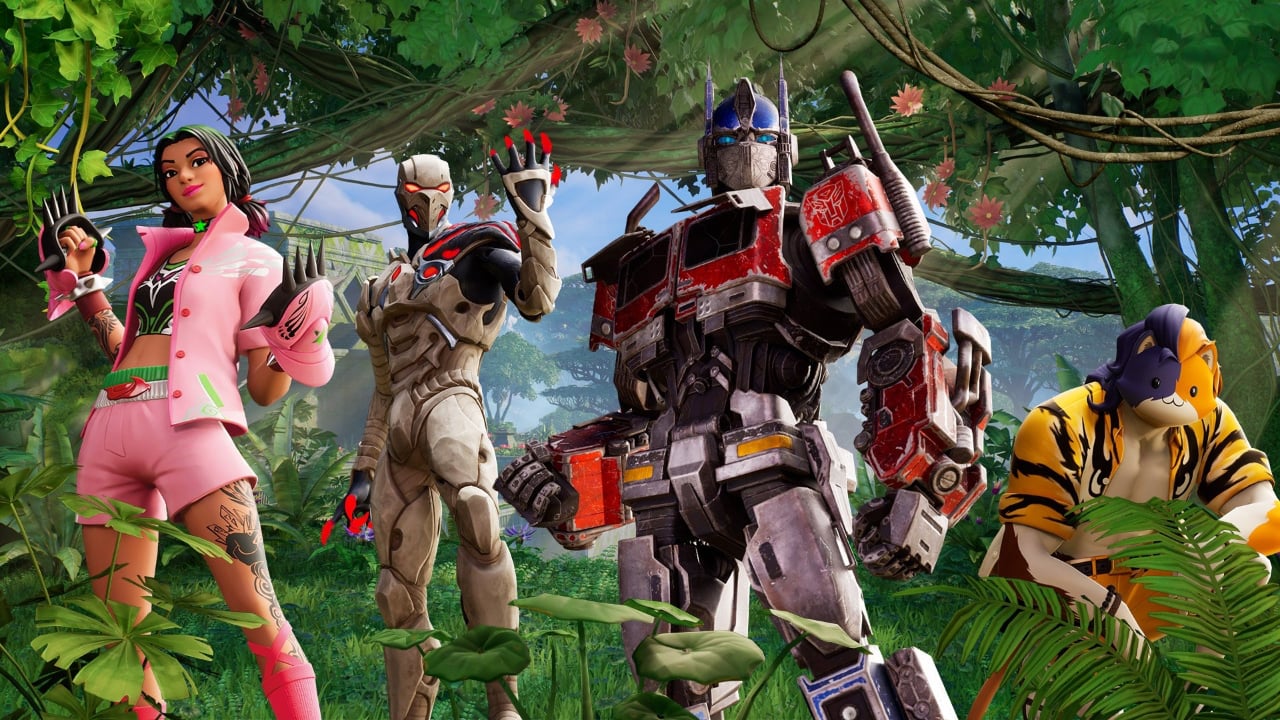 Fortnite Chapter 4 Season 3 known as Wilds is live now across all the platforms, and Epic has revealed the official patch notes of the update. As is tradition, the new Fortnite update is filled to the brim with loads of new features, such as new creatures known as Raptors, a bunch of new reality augments, Transforms crossover, map changes, and much more.
So without any further ado, here's a detailed rundown of the Fortnite Chapter 4 Season 3 update patch notes.
Fortnite Chapter 4 Season 3 Patch Notes - New Weapons
Thermal DMR
Hey, jungle warriors! Want to spot your foes like a pro? Grab the Thermal DMR and use its awesome thermal vision scope. You'll see them before they see you!
Flapjack Rifle

Who doesn't love pancakes? How about a Flapjack Rifle that shoots them? OK, not really, but this new gun has a cool spinning mag that will make your enemies dizzy. Find the Mythic version in special Vaults and show them who's boss!
Kinetic Boomerang

Throwing stuff is fun, especially when it comes back to you. That's why you'll love the Kinetic Boomerang. It hits enemies on the way out and on the way back. And if you miss, just recall it and make it go boom!
Cybertron Cannon

Ready for some serious firepower? Then you need the Cybertron Cannon. This bad boy shoots a big, fast, and explosive projectile that will make your enemies go bye-bye. Don't miss this chance to have a blast!
Wildwasp Jar

The jungle is full of creepy crawlies, but some of them can be useful. Like the Wildwasps. These angry bugs like to hang around certain plants. Catch them in a jar and toss them at your foes. They'll sting them good! (But watch out, they might sting you too. Jump in water or mud to get rid of them.)
Apart from this, the Drum Shotgun and Combat SMG are returning to the battle royale.
Old Fortnite Weapons Available in Chapter 4 Season 3
There's the new weapons, there's the unvaulted weapons, but don't forget about these Chapter 4 Season 2 carryovers:
Havoc Pump Shotgun
Maven Auto Shotgun
Havoc Suppressed Assault Rifle
Red-Eye Assault Rifle
Submachine Gun
Tactical Pistol
Heavy Sniper Rifle
Chug Cannon (Exotic weapon …and technically not a weapon)
Heisted Breacher Shotgun (Exotic weapon)
Heisted Accelerant Shotgun (Exotic weapon)
Heisted Run 'N' Gun SMG (Exotic weapon)
Shadow Tracker (Exotic weapon, this time available from Exotic Holo-Chests and Characters)
New Creatures - Raptors
Watch out, the jungle is full of raptors! But don't be scared, be awesome. Hop on their backs and show them who's the boss. Shoot your guns and jump like crazy as you ride.
Fortnite Chapter 4 Season 3 Map Changes
Mud Sliding Mechanic
The jungle is a messy place, but you can use that to your advantage. Slide in the mud and go faster than ever. Plus, you'll get all dirty and blend in with the surroundings.
Vines in Jungle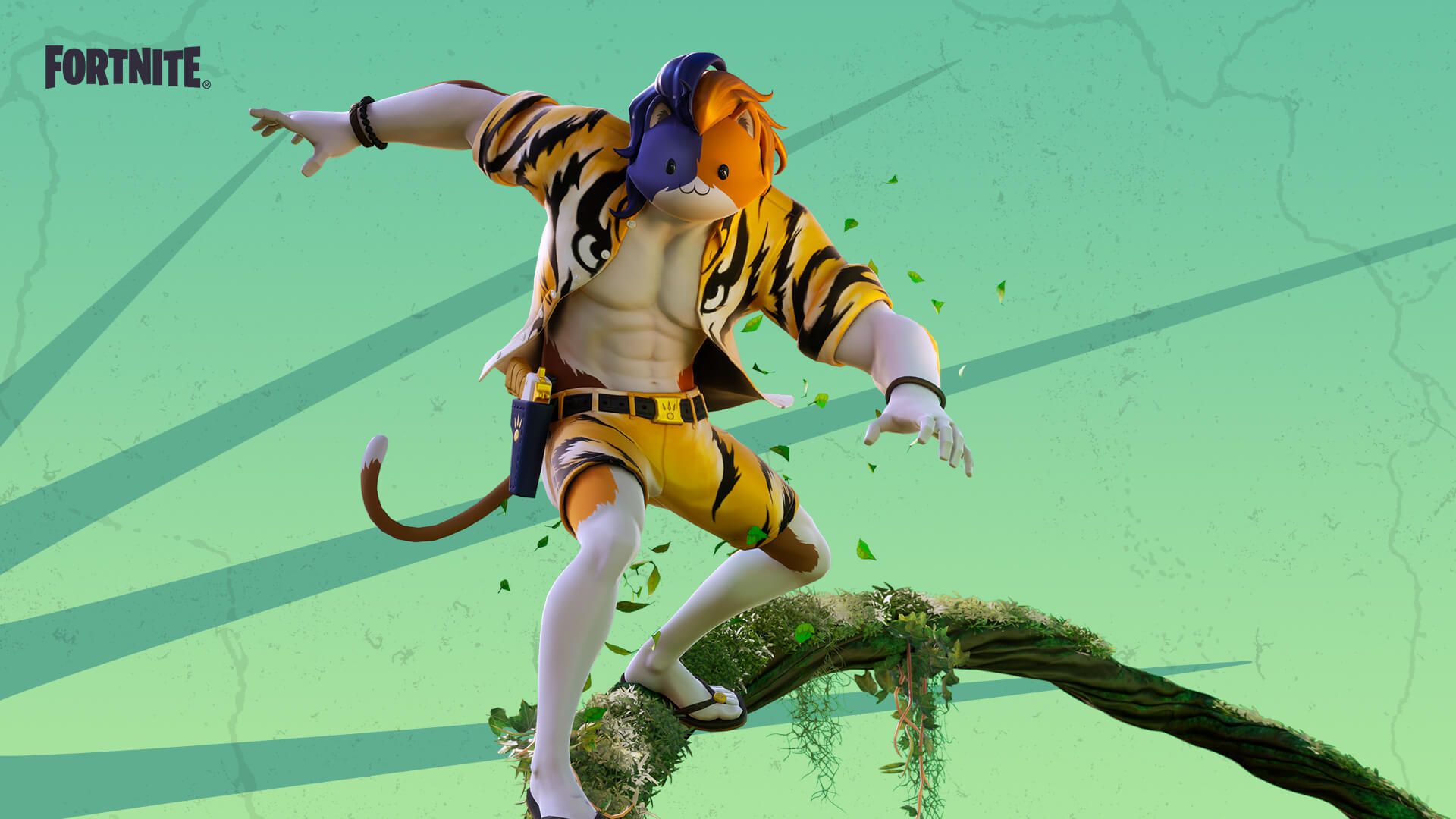 Take an adrenaline-pumping ride on grind vines, being able to use weapons at the same time.
Contend from the Canopies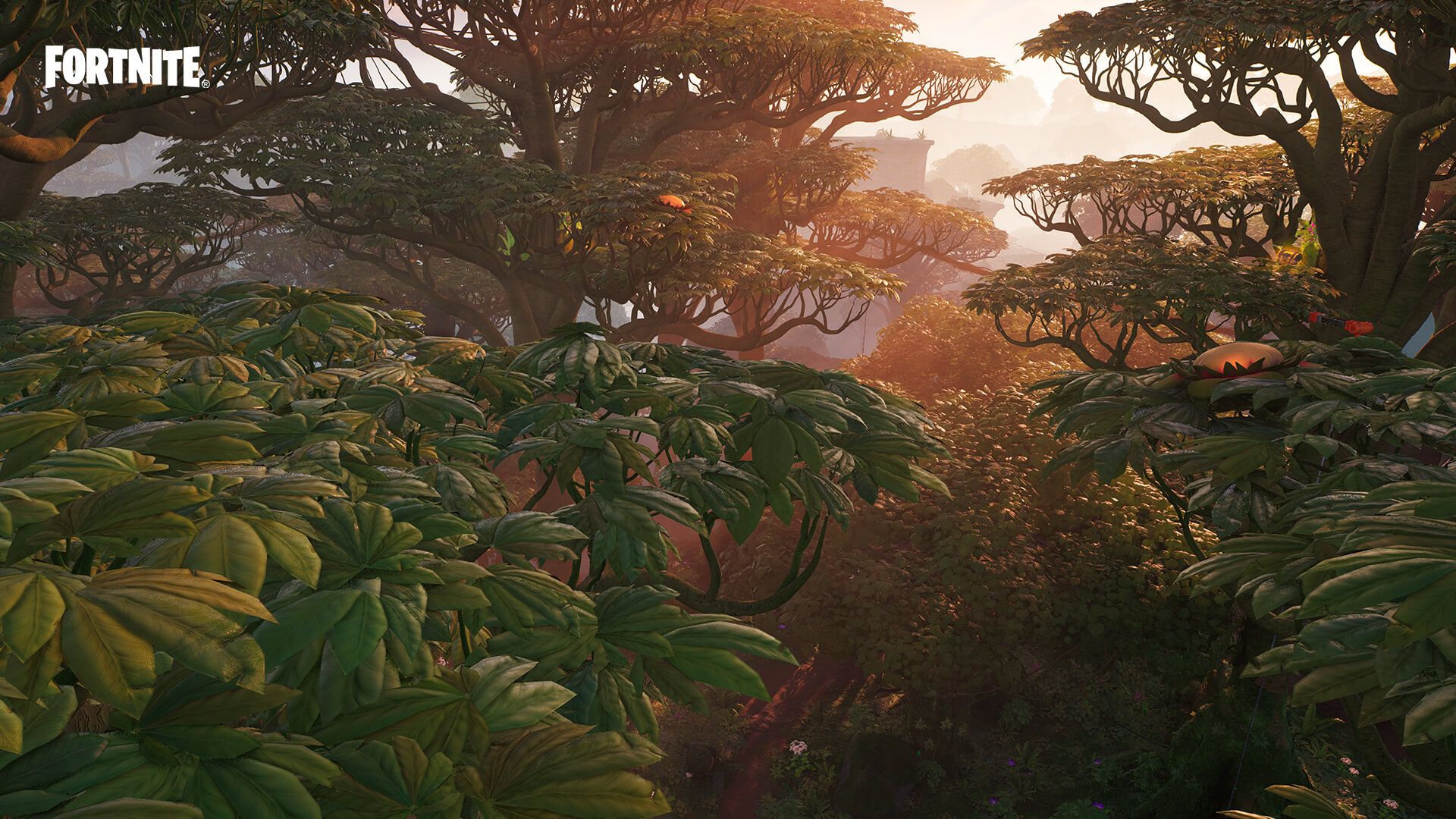 Who says you need to stay on the floor? Climb up to the treetops and shoot from the sky! When you're done, slide down and find some mud to make a quick (but also dirty) escape.
Fight with Flora

The jungle has some crazy plants that you can use for fun. Shoot a Bomb Flower to make it go boom, or shoot a Stink Flower to make your enemies cough and choke. Need some health? Smash the Slurp Plants with your Pickaxe and slurp up the juice.

There's also a flower for mobility. Run into Hop Flowers to bounce around the jungle without worrying about fall damage!
New v25.00 Augments
Primal Companion

Want to see like an animal and heal like one too? Then you need the Primal Companion Reality Augment. It gives you thermal vision and health regeneration when you ride animals.
Wildwasp Weaponry

Need some extra sting in your arsenal? Try the Wildwasp Weaponry Reality Augment. It gives you some Wildwasp Jars to throw at your enemies, and you get another one every time you eliminate someone.
Sprint Lines

Looking for some speed and style? Check out the Sprint Lines Reality Augment. It makes you slap faster when you use grind vines, grind rails, ziplines, or Ascenders.
Shell Slide

Love sliding and shotguns? Then you'll love the Shell Slide Reality Augment. It gives you shotgun shells when you slide on the ground.
Swift Shotgun Reload

Hate waiting for your shotguns to reload? Then get the Swift Shotgun Reload Reality Augment. It makes your shotguns reload faster than ever.
Reckless Rifle Reload

Want to keep shooting your assault rifles without stopping? Then you need the Reckless Rifle Reload Reality Augment. It makes your assault rifles reload super fast when the magazine is empty.
Medium Ammo Acquired

Running low on medium ammo? Don't worry, just grab the Medium Ammo Acquired Reality Augment. It gives you some medium ammo right away, and more when you open containers.
Old Augments Returning to the latest Season
In addition to new Reality Augments, roll returning ones:
Aquatic Warrior
Light Fingers
First Assault
Bloodhound
Steady Hands
SMG Sign Off
Exotic Grab Bag
Soaring Sprints
Mythic Munition
Keymaster
Rarity Check
Shotgun Striker
New Fortnite Chapter 4 Season 3 Battle Pass Skins
Hey, fashionistas! Want to look awesome this season? Then you need the Chapter 4 Season 3 Battle Pass Outfits. When you buy the Battle Pass, you'll get the cool and futuristic Era right away. Then you can unlock more outfits as you play, like the rockin' Rian and the legendary Optimus Prime. And don't miss the wild and crazy Purradise Meowscles coming later this season!
Here are all the outfits you can get with the Battle Pass:
Era

She knows her history and she's ready for the future. Era is a smart and stylish outfit that will make you stand out.
Trace

He's been wandering for a long time, but now he's found his way. Trace is a rugged and adventurous outfit that will make you feel at home.
Rian

She loves music and she loves to rock. Rian is a fun and flashy outfit that will make you groove.
Relik

He's always on the hunt for secrets and mysteries. Relik is a brave and bold outfit that will make you explore.
Mariposa

She's a fearless and fabulous fighter. Mariposa is a colorful and creative outfit that will make you dazzle.
Lorenzo

He's a charming and charismatic explorer. Lorenzo is a classy and clever outfit that will make you impress.
Optimus Prime

He's the leader of the Autobots and the protector of Earth. Optimus Prime is a noble and powerful outfit that will make you transform.
Purradise Meowscles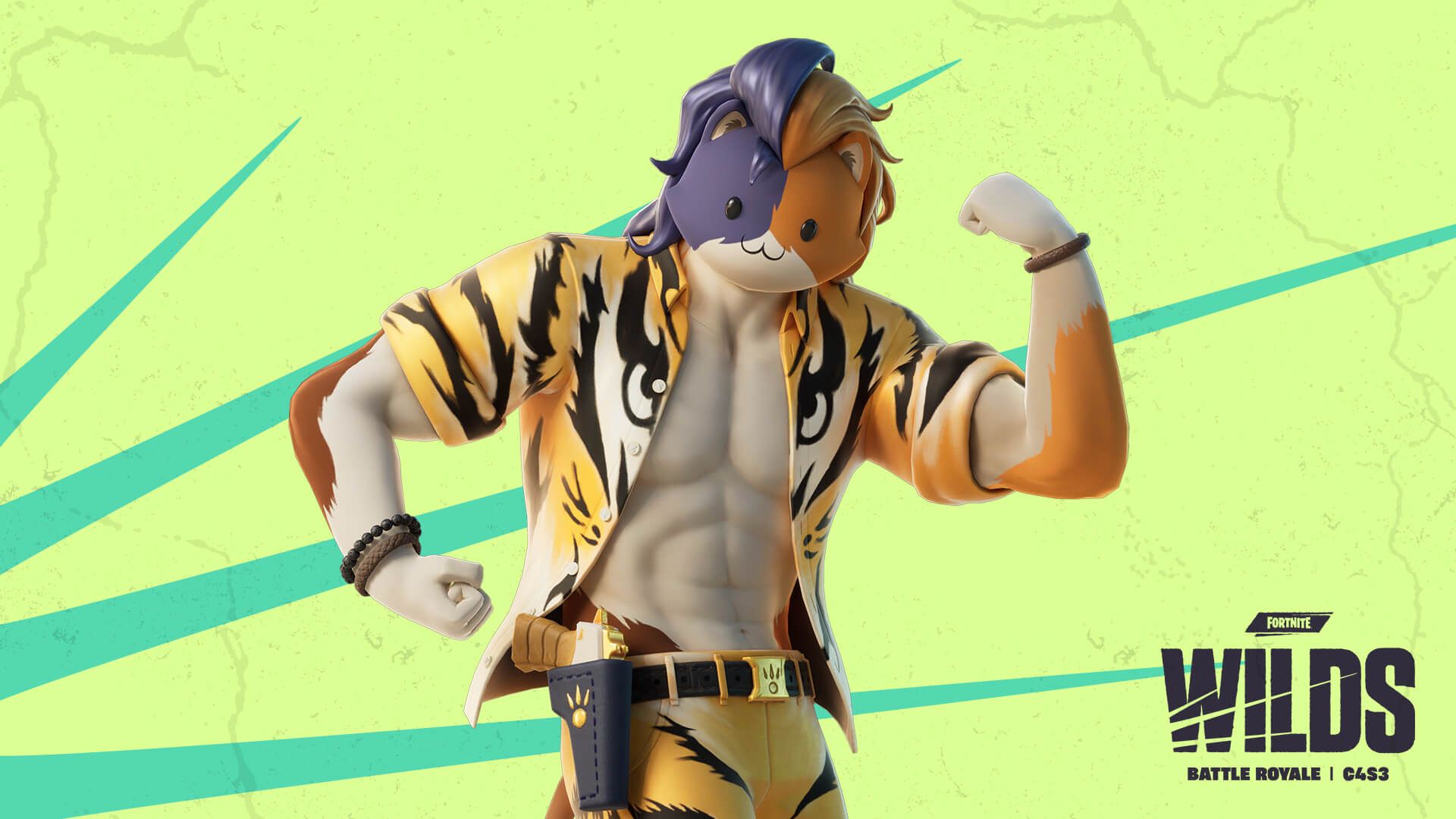 He's a furry and friendly feline who loves to have fun. Purradise Meowscles is a cute and crazy outfit that will make you purr.
Optimus Primal

Pit Optimus Prime against Optimus Primal. This fierce leader of the brave Maximals is available now in the Item Shop!
That's everything you need to know about Fortnite Chapter 4 Season 3 update. Before you leave, check out our Fortnite tracker app to monitor your in-game performance.
Comments