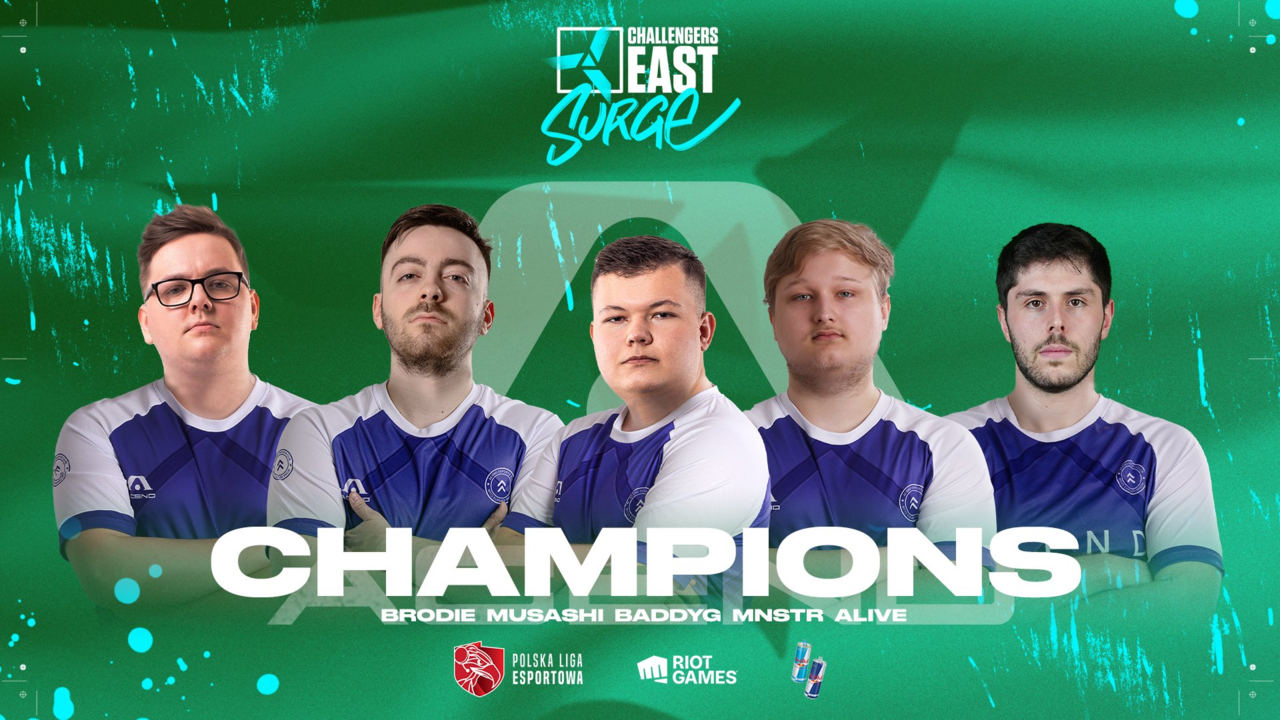 Acend are the winners of the first split of VCL East: Surge after beating Enterprise Esports 3-0 in the Grand Finals.
The first map of the best of five series was Icebox. Acend easily breezed through the first half by leading 8-4. They continued their momentum by winning four straight rounds to open the second half, going up with a score of 12-8. EP then won the next round, but Acend quickly took things back into control and won the next round to win the game. The final score was 13-5.
Things were much closer on the second map, Haven. This time EP started off hot in the first half, where they won nine rounds and went up with a score of 9-3 going into halftime. They then won the opening round in the second half, to lead 10-3. This is where the game changed drastically and Acend won nine straight rounds to force overtime. Overtime wasn't exactly close as Acend continued their rampage and easily won two rounds to win the game 14-12.
Acend was now leading 2-0 and only needed one more map to win the series. The third map was Pearl. Acend started things off hot, winning nine rounds in the first half and going up with a score of 9-3. Enterprise ran out of steam and Acend quickly finished things off in the second half, only losing one round. The final score was 13-4.
Every single player on Acend played well, but the two who stood out the most were Israeli player ALIVE and Czech player MONSTEERR. The former had a KDA of 60-33-4 through all three maps, as well as an ACS of 239 and an ADR of 157. Additionally, he hit some crazy Operator shots through the series to help secure essential round wins. The latter had a KDA of 61-39-22 through all three maps, as well as an ACS of 276 and an ADR of 192. He's probably been the most consistent player all season for Acend and again proved that today with his incredible gameplay and stats.
With the win, Acend are the winners of Split 1 and have been awarded 115 Circuit Points as well as €7,500. Enterprise Esports got 95 Circuit Points and €4,500 for their second-place finish. The rest of the final standings are as follows:
3rd: Anonymo Esports - €2,000 and 75 CP
4th: Cyber Wolves Esports - €1,500 and 60 CP
5th: Rapid Ninjas - €1,200 and 45 CP
6th: Diamant Esports - €800 and 30 CP
7th: Anorthosis Famagusta Esports - €800 and 15 CP
8th: B8 Esports - €600 and 8 CP
9th: Zero Tenacity - €600 and 5 Cp
10th: NOM Esports - €500
Whoever has the most Circuit Points after Split 2 will qualify for the EMEA Ascension tournament.  
It is currently unknown when Split 2 will start, but it is figured to be around April and May.
Stay tuned to @ValorantTracker on Twitter for full Valorant esports coverage.
Comments