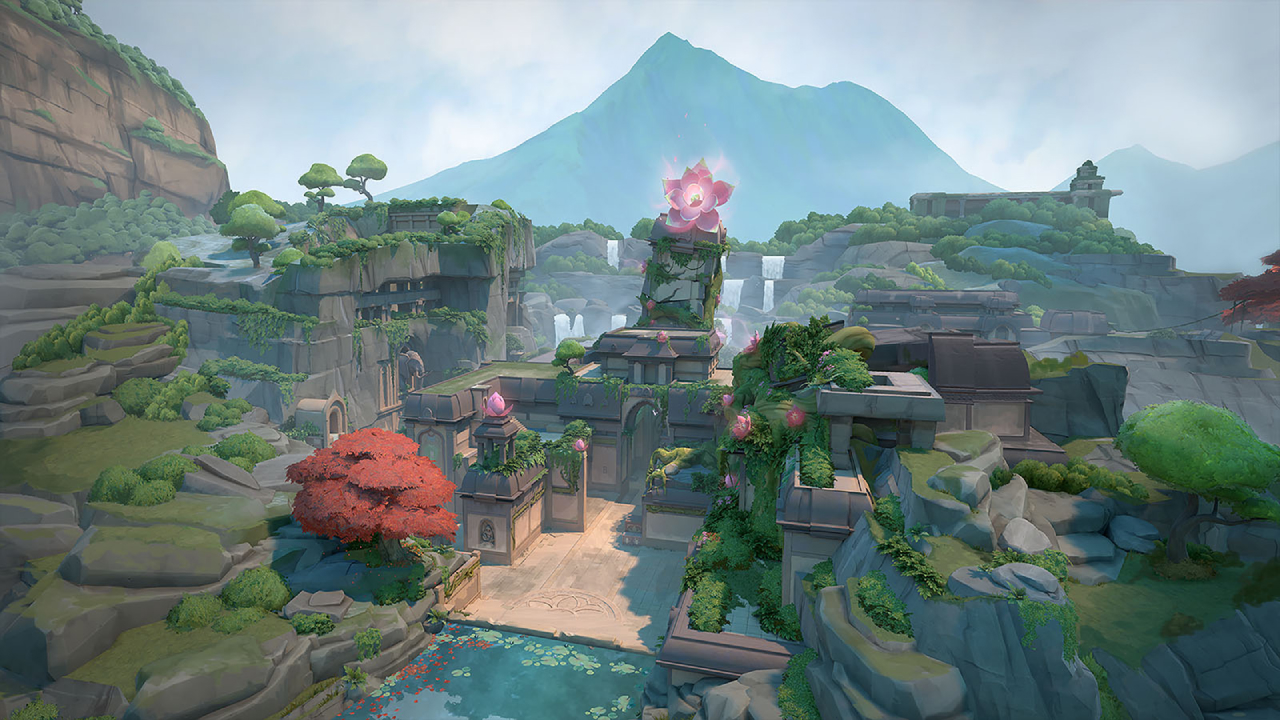 New leaks have surfaced, revealing potential changes to certain areas on the Valorant Lotus map, which might be in favor of the defending side.
On September 20, 2023, a reliable and known leaker, ValorLeaks announced on X (formerly known as Twitter) that Lotus Changes are about to come to Valorant. ValorLeaks shared a flythrough clip by Floxay, a dataminer, showcasing new changes on multiple areas around the map from A link, B site to C site. From the video, it appears that the map is in for a major overhaul based on the number of changes that could arrive in the live servers soon.
All Possible Valorant Lotus Changes
Below, you'll find the potential changes that may come to Valorant if the leaks turn out to be true. These changes involve expanding certain areas and adding boxes and crates, which will create new angles
Lotus A-link Changes
A-link will have the smallest change with one of its walls being moved further back.
Currently, positioning in A-link will only give you a view of A-main and a bit of rubble. But with these changes, defenders holding A-link can now shoot at targets on all A main, A rubble and near A root, without having fully exposing themselves to multiple opponents. On the other hand, players who will try to push from A-main to A-link will soon have to be exposed to two angles at the same time, thanks to the new corner formed.
Lotus B Site Changes
On the other hand, a small area will open up on Lotus's B site, expanding the site's current size. The wall on the left side, next to the brown crate, will be pushed farther back, once again creating a 50-50 corner that attackers must check.
Lotus C Site Changes
Leaks also suggest that C site will see the biggest changes.
With the left wall being pushed backwards, players will be given more area to play around in this part of the site. However, before completely entering the site, attackers will have to deal with a new corner they should check, with a newly-placed stack of boxes.
Moving forward, a tall structure will be erected next to the thick L-shaped wall in the middle of the site and another one near the brown crate next to C bend.
In comparison to the current patch, Bend will now feature a slight elevation instead of being entirely flat, potentially eliminating the water sound it usually creates when walking on it.
Lastly, just beside the double box near C waterfall, two boxes having different heights will also be placed.
According to the data Blitz.gg, Lotus currently has a higher attack round win percentage (53.9%) than defense for Episode 7, Act 2 across all ranks and modes. Interestingly, this trend has persisted not only in the current act but also in previous acts since the map's initial release.
Given that this three-site map is known for favoring attackers, much like Haven, it stands to reason that Riot Games may be considering these Lotus changes as a means to tip the balance in favor of defenders when it comes to securing round wins. If these changes indeed make their way into Valorant, they could usher in more tactical opportunities, providing defenders with advantages they need to compete on a more even footing with the attackers.
With the expansion, new corners, obstacles and boxes that could be added soon in Lotus, it appears that rushing in especially without a good recon, or well-timed flash will be a lot harder than it is currently. These changes may also introduce more 50-50 angles for players to check, rat spots and corners where shotguns players can hide.
According to ValorLeaks, these potential Lotus map changes are expected to arrive later this year. However, no specific release date or patch containing these updates has been provided. Additionally, whether these changes are final or subject to further adjustments remains uncertain and players must await the official Valorant update for confirmation. For now, players will have to take this with a grain of salt as these leaks are not yet confirmed.
Tune in to @ValorantTracker on Twitter for the latest VALORANT News and Guides.
If you're new to VALORANT Tracker, check out your player statistics, ranked and premier leaderboards, and much more on our site!
Before you leave, check out our Valorant Tracker APP to monitor your in-game performance.
Comments