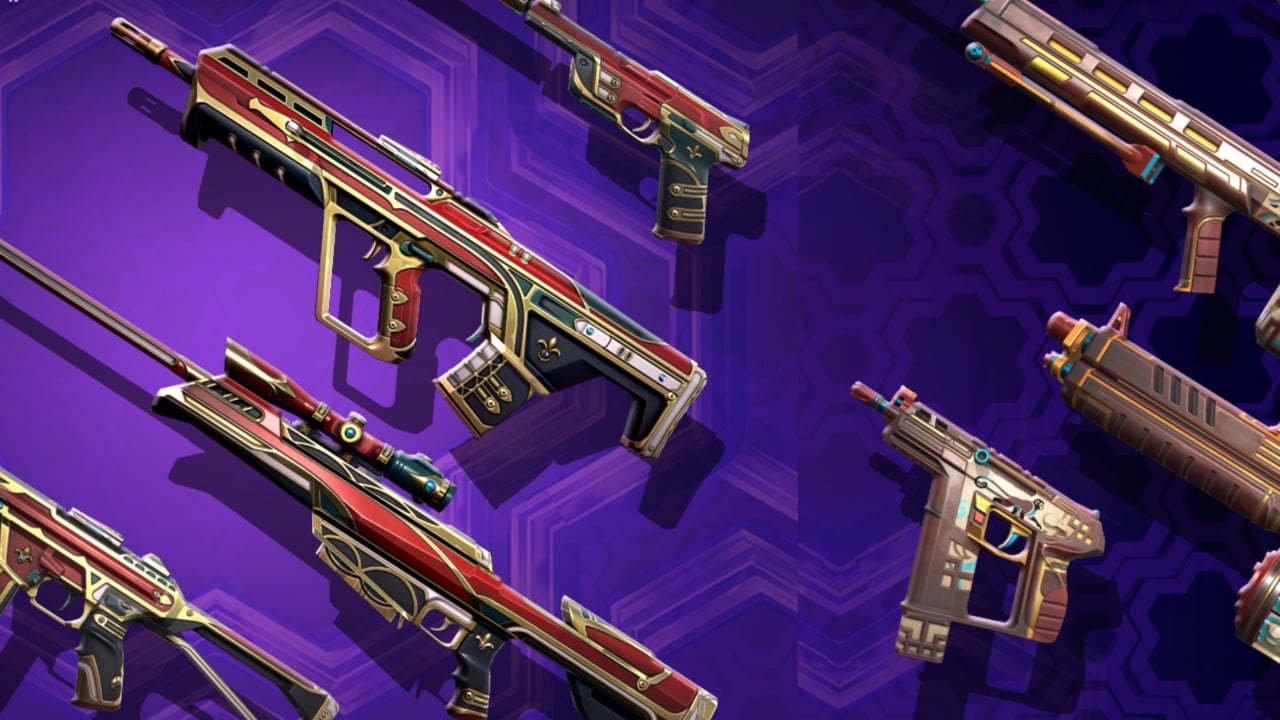 VALORANT Episode Seven Act Two is coming to an end in the next few hours, with Act Three going live in a matter of hours. Episode Seven Act Three will feature the introduction of a new duelist (Iso), and will include a beautiful battlepass to grind and unlock its skins. Here's everything we know about Episode Seven Act Three Battlepass.
Episode 7 Act 3 Battle Pass
Skin Collections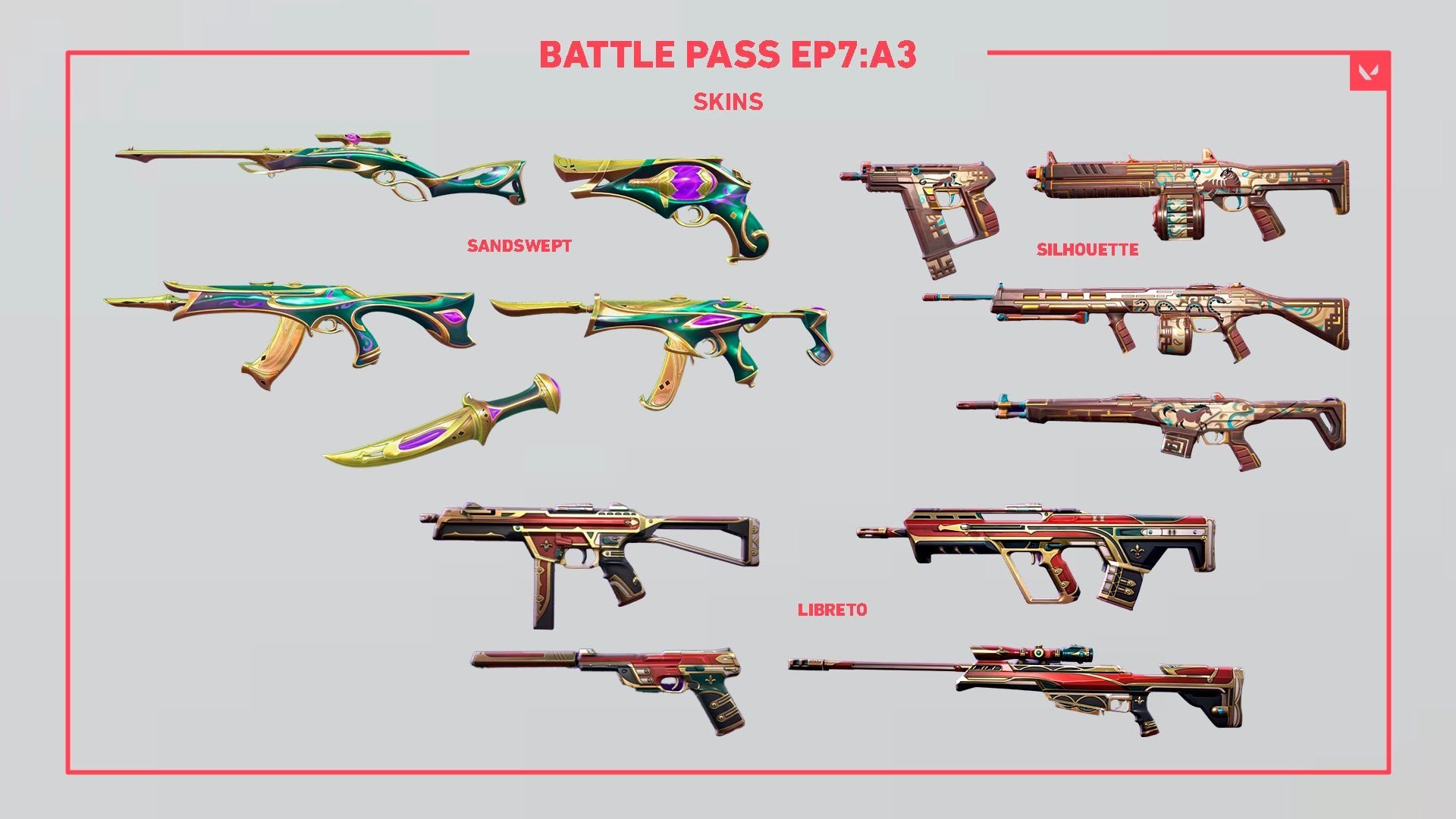 Sandswept Collection
Includes:
Sandswept Sheriff
Sandswept Vandal
Sandswept Marshal
Sandswept Spectre
Sandswept Melee
Libretto Collection
Includes:
Libretto Ghost
Libretto Bulldog
Libretto Operator
Libretto Stinger
Silhouette Collection
Includes:
Silhouette  Guardian
Silhouette  Ares
Silhouette  Judge
Silhouette Frenzy
Sprays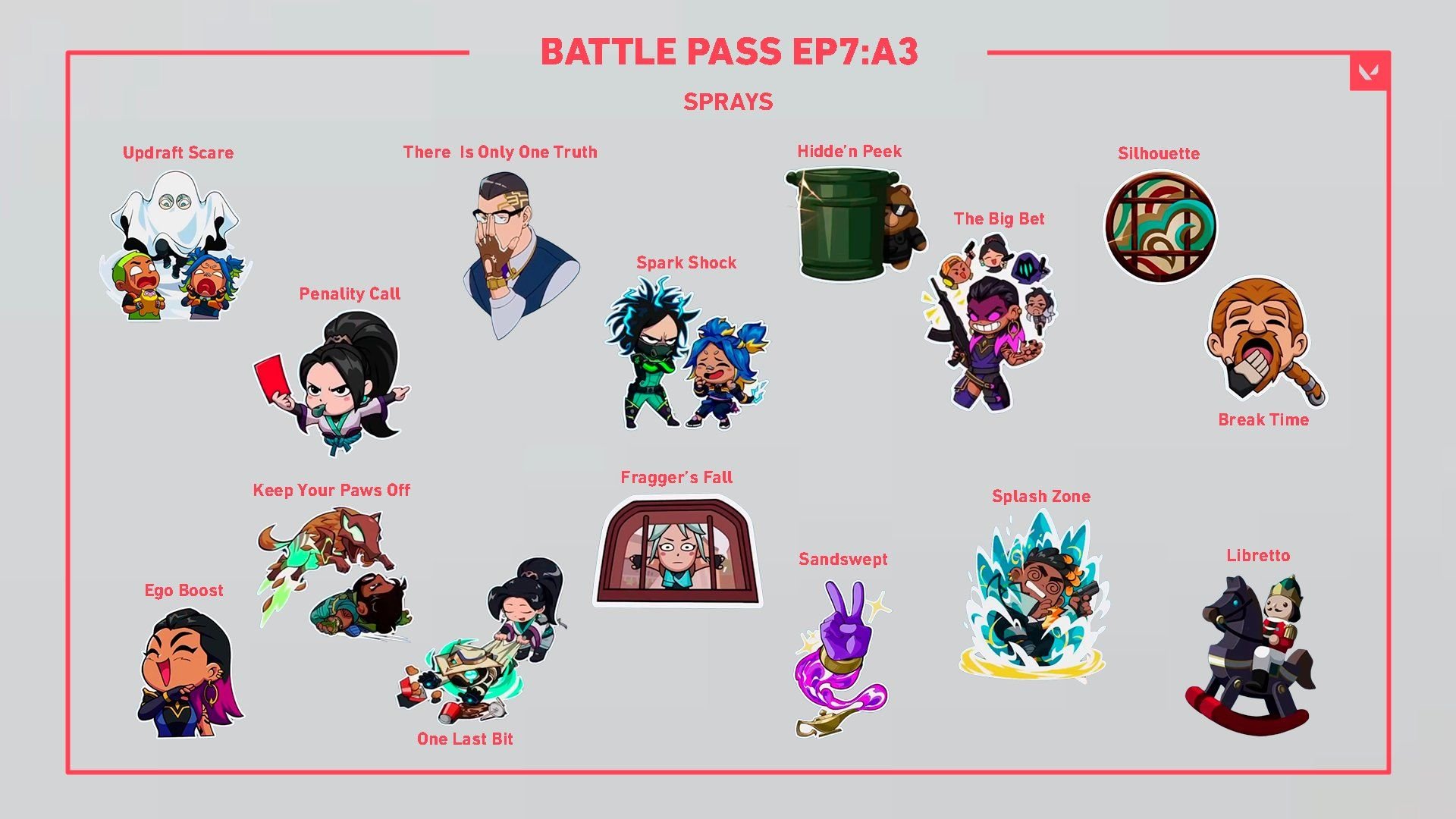 Includes: Updraft Scare, There Is Only One Truth, Hidde'n Peek, Sillhouette, Penalty Call, Spark Shock, The Big Bet, Break Time, Keep Your Paws Off, Frager's Fall, Splash Zone, Ego Boost, One Last Bit, Sandswept, Libretto.
Player Cards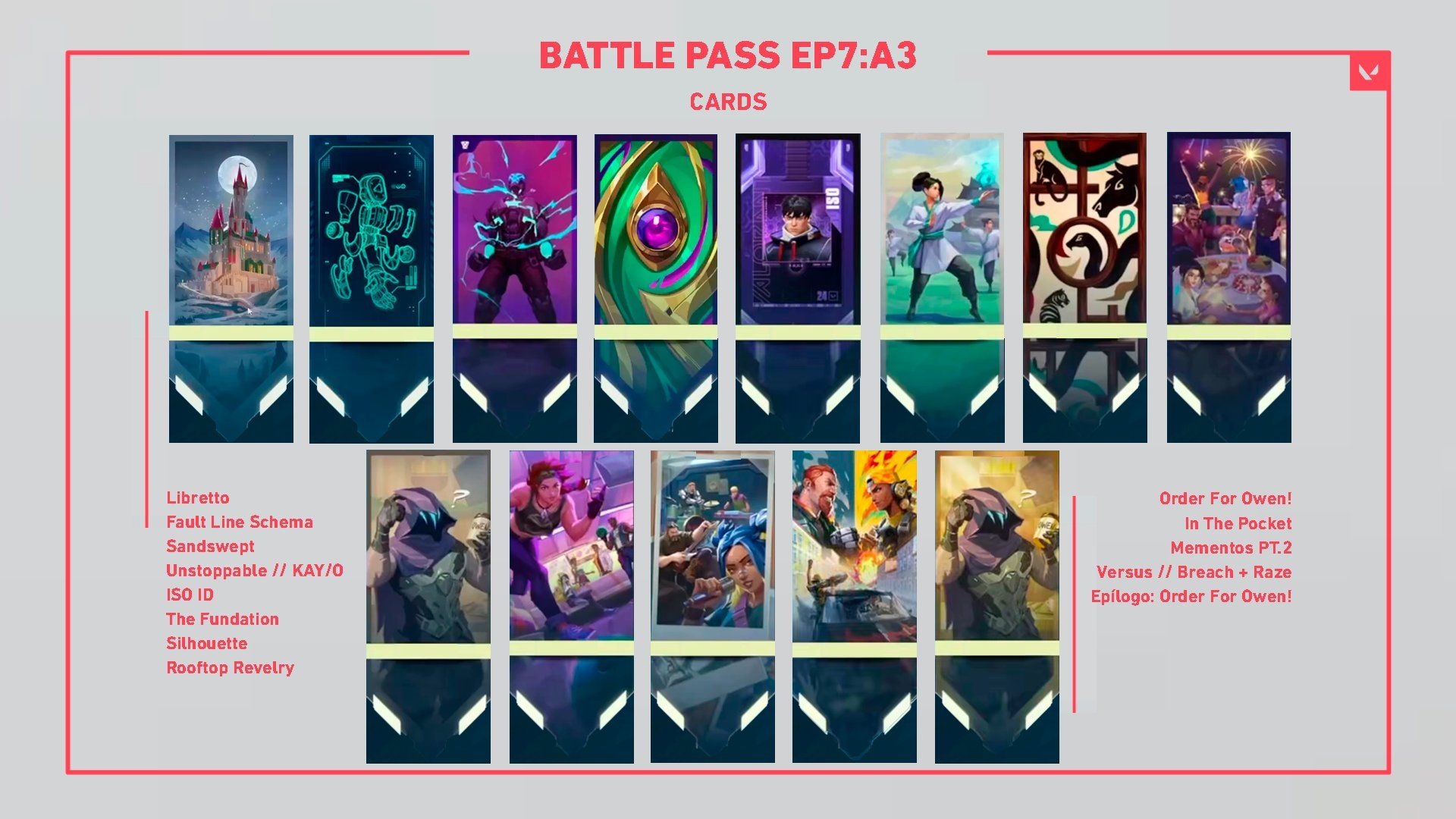 Includes: Libretto, Fault Line Schema, Sandswept, Unstoppable // KAYO, ISO ID, The Fundation, Sillhouette, Rooftop Revetry, Order For Owen! In The Pocket, Mementos PT 2, Verusus // Breach + Raze, Epilogue: Order For Owen.
Gun Buddies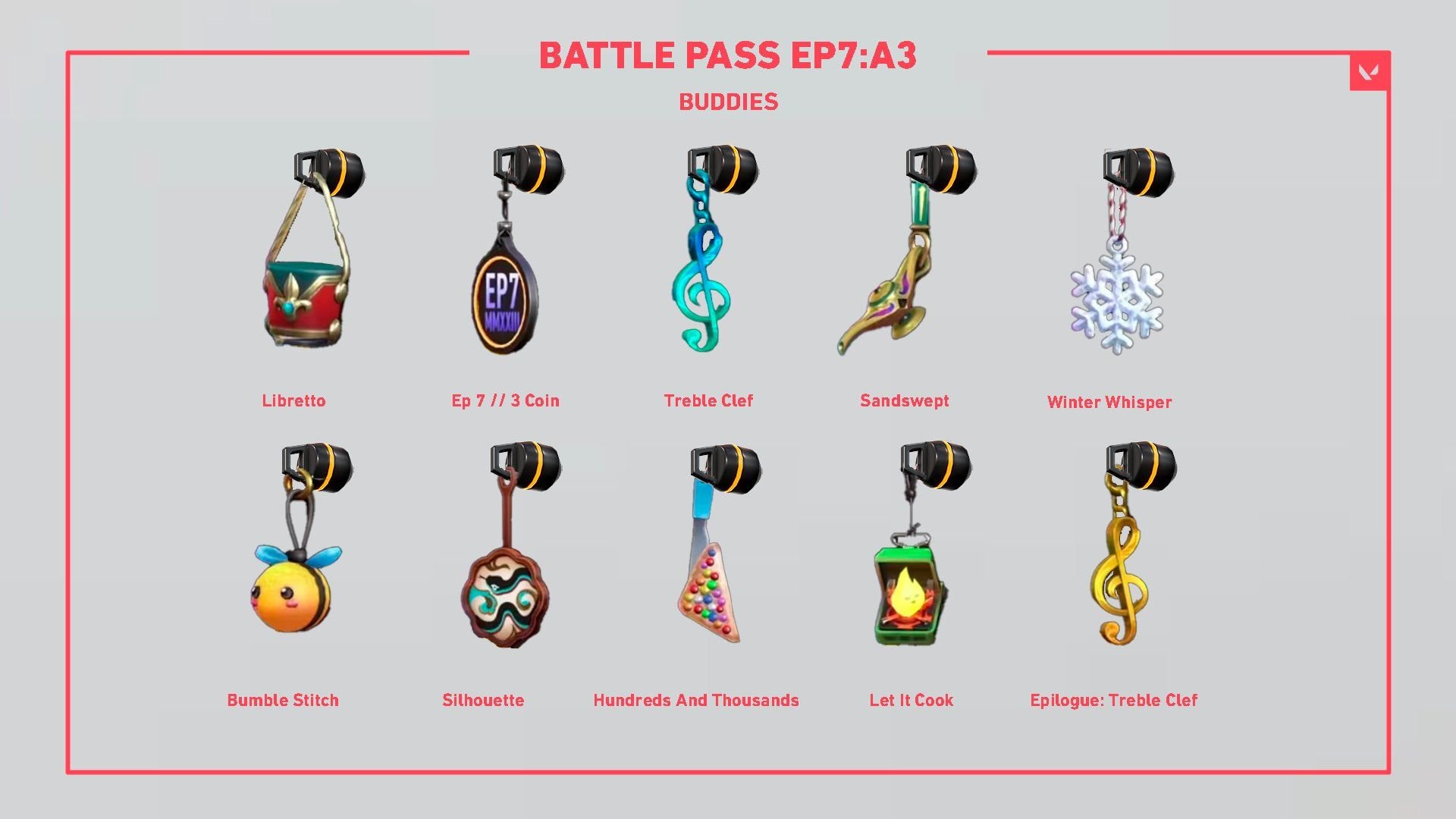 Includes: Libretto, Ep 7 // 3 Coin, Treble Clef, Sandswept, Winter Whisper, Bumble Stitch, Sillhouette, Hundreds And Thousands, Let It Cook, Epilogue: Treble Clef.
Titles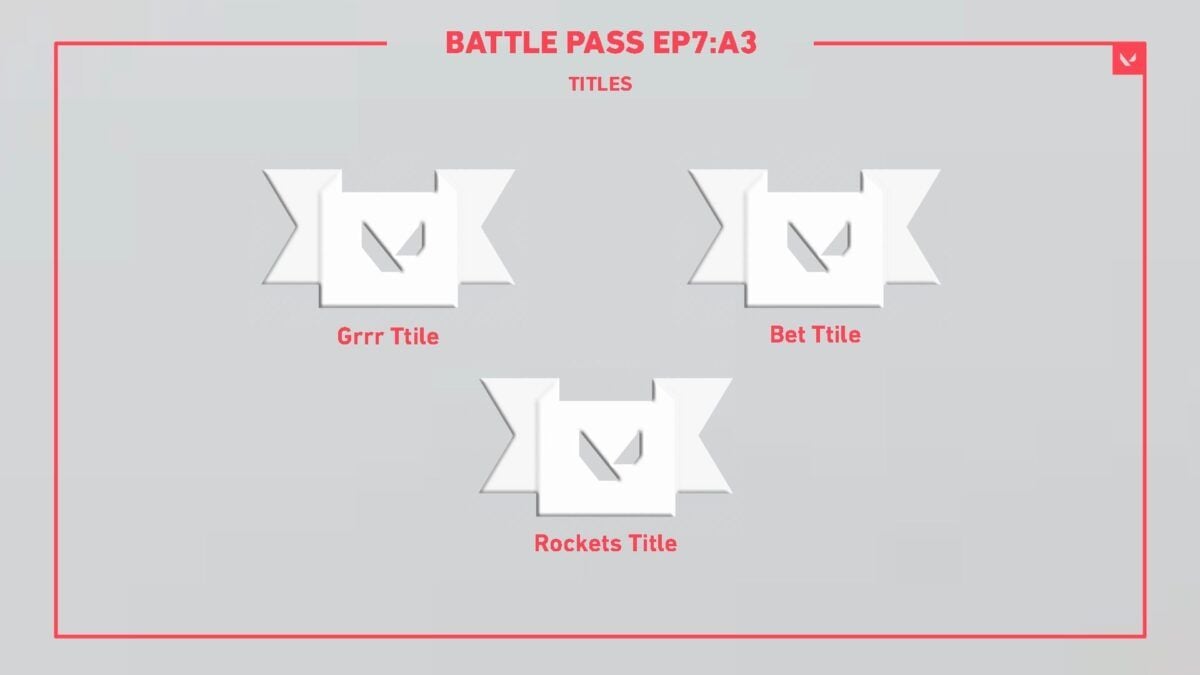 Includes: Grr Title, Bet Title, Rockets Title.
Episode 7 Act 3 Battlepass Price
As usual, it will cost 1,000 VP.
More information and pictures of Episode 7 Act 3 Battle Pass will be revealed soon.
---
Tune in to @ValorantTracker on Twitter for the latest VALORANT News and Guides.
If you're new to VALORANT Tracker, check out your player statistics, ranked and premier leaderboards, and much more on our site!
Before you leave, check out our Valorant Tracker APP to monitor your in-game performance.
Comments