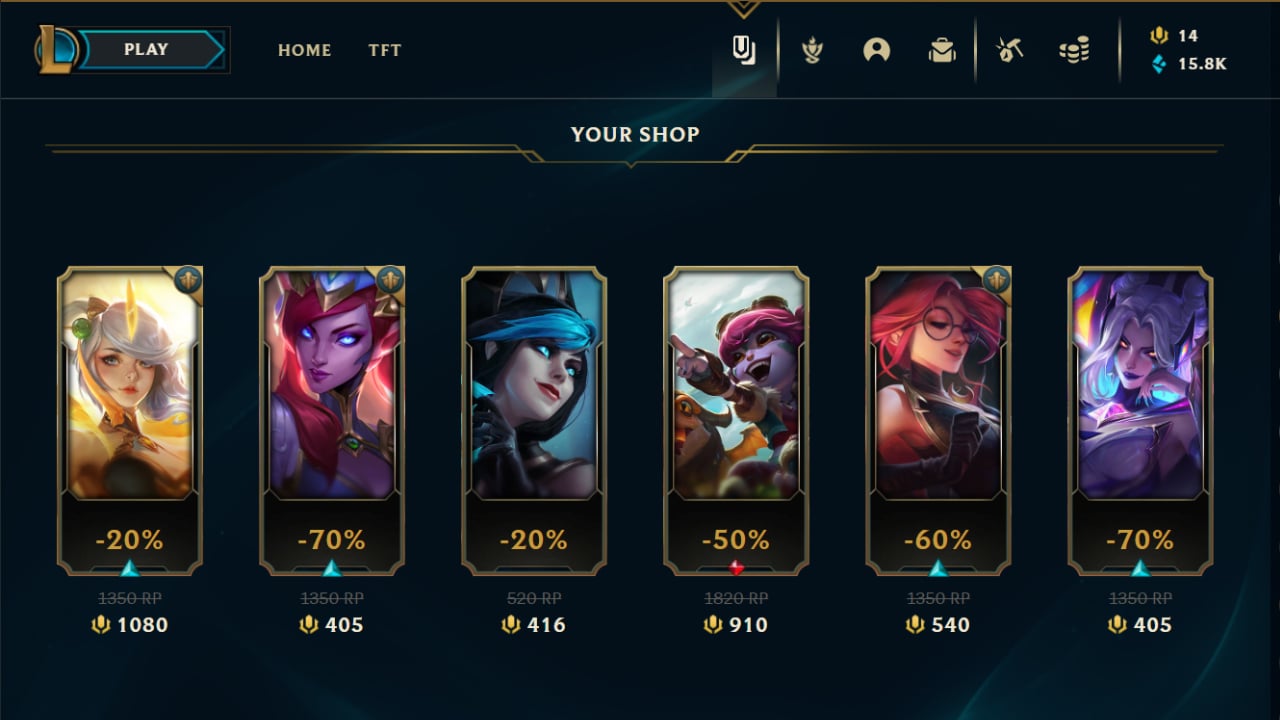 The most-awaited Your Shop has finally returned in League of Legends, so be prepared to unveil it one by one to reveal some juicy deals and tempting discounts you may not be able to resist.
League of Legends is known for its frequent release of visually appealing skins for its players to use.  The game is totally free but some players tend to spend a bit of cash to get their hands on these skins, which in turn make their whole gaming experience a lot more interesting. While skins do not improve your character's statistics or ability, putting on a skin allows you to join the fray and fight with style with the eye-catching and stunning ability and recall animations.
But with over 1400 skins in LoL, collecting skins can become expensive. Fortunately, League of Legends' Your Shop provides a means to acquire skins at reduced costs. If you're interested in learning more, you've come to the perfect spot. Here's everything you need to know about Your Shop, the schedule and the skins you could get.
When is League of Legends' Your Shop?
League of Legends' Your Shop is currently available on the PBE server, hence it will arrive on the live servers in the upcoming LoL Patch 13.19 on September 21, 2023 to October 19, 2023.
Past Your Shop Dates and Schedule:
July 13th, 2023 to August 11th, 2023
April 27th 2023 to May 25th 2023.
February 13th 2023 to March 16th 2023.
December 8th 2022 to January 3rd 2023.
October 13th 2022 to November 14th 2022.
July 22nd 2022 to August 29th 2022.
April 28th 2022 to May 30th 2022.
February 10th 2022 to March 9th 2022.
December 16th 2021 to January 17th 2022.
October 7th 2021 to November 8th 2021.
July 22nd 2021 to August 30th 2021.
April 29th 2021 to May 31st 2021.
March 4th 2021 to March 29th 2021.
December 10th 2020 to January 18th 2021.
October 1st 2020 to November 10th 2020.
July 23rd 2020 to August 17th 2020.
May 21st 2020 to June 15th 2020.
February 20th 2020 to April 13th 2020.
December 12th 2019 to January 13th 2020.
October 16th to November 18th 2019.
June 28th 2019 to July 22nd 2019.
April 4th 2019 to April 25th 2019.
December 6th 2018 to January 7th 2019.
August 16th 2018 to August 30th 2018.
May 31st 2018 to June 18th 2018.
March 8th 2018 to March 26th 2018.
December 12th 2017 to January 8th 2018.
September 18th 2017 to October 3rd 2017.
May 18th 2017 to June 6th 2017.
June 2nd 2016 to June 23rd 2016.
January 28th 2016 to February 8th 2016.
December 16th 2015 to December 30th 2015.
What is Your Shop in League of Legends
LoL Your Shop is a periodic sale, featuring personalized skin discounts for champions that you have played the most in the past 6 months. However, if you haven't played in a long time, the system will randomly choose skins to be included.
It is a limited-time sale that takes place at random times each year, but often before big events.
Your Shop will offer six champion skins, along with the champion itself if not owned by the player. Each skin that will appear in Your Shop will be presented with varying discounts, which may range from 20-70%. If you're lucky, the highest discount might even end up on the champion skin that you've been eyeing for.
How to Open Your Shop in League of Legends
Your Shop can be easily accessed by heading to the League of Legends client. Click on the 'Your Shop' icon which seems to be glowing and sitting just right before the Clash's logo.
Doing so brings you here, and there will be six cards, waiting to be revealed. Click on any of these, one by one to discover which skins you could buy at a discount.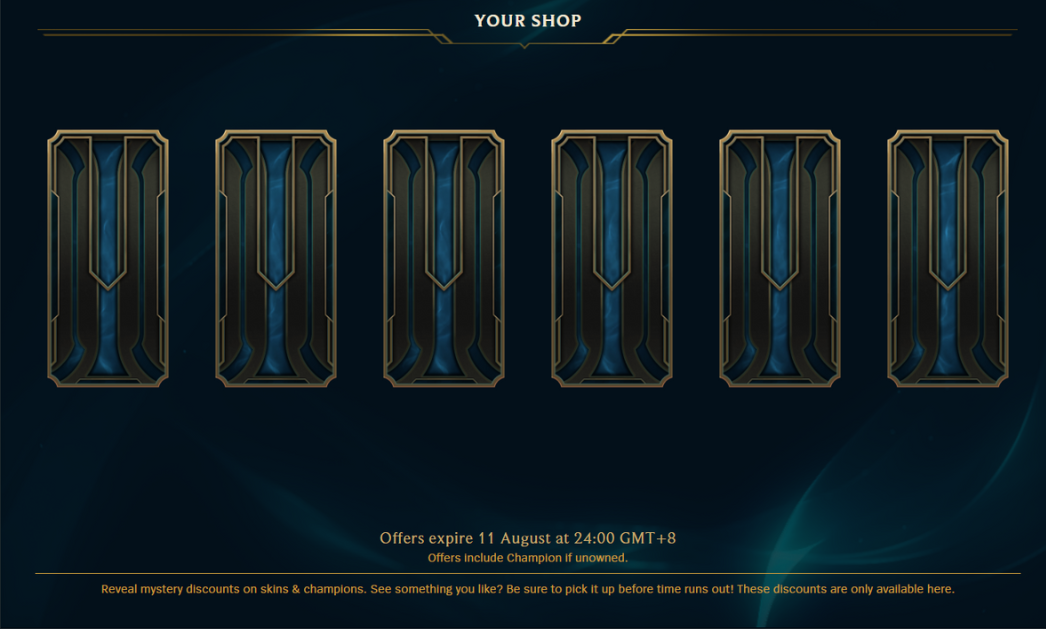 What are the eligible skins for League of Legends Your Shop
If you want your ideal skin to become available, you should hope that it meets the requirements to be included in League of Legends' Your Shop. There are, alas, skins that have no chance of ever existing, and they are:
Ultimate skins
Skins released within 90 days of Your Shop's opening
Limited Skins
Loot Exclusive Skins
Skins that are on sale during the offers
Skins not sold for RP (bundle-exclusives, Victorious skins, Prestige skins Prestige Points Prestige skins, etc.)
Legendary skins on the other hand only appear in LoL's Your Shop once per year. This time around, players are guaranteed to receive a discount to a Legendary skin.
Is it possible to reroll skins in League of Legends' Your Shop
Given the sheer amount of possible skins that could show up in Your Shop, the odds of getting the skin you want are low, and you can end up with ones you barely enjoy instead. However, there is currently no way to reroll the skins, and nothing that can be done about it. But fret not, as you can still wait for the next Your Shop to return later this year.
Keep yourself updated to the latest news, current leaderboards and more by checking out our League of Legends stats tracker.
Up Next: Riot Forge's Bandle Tale: A League of Legends Story Arrives Soon in 2024
Comments