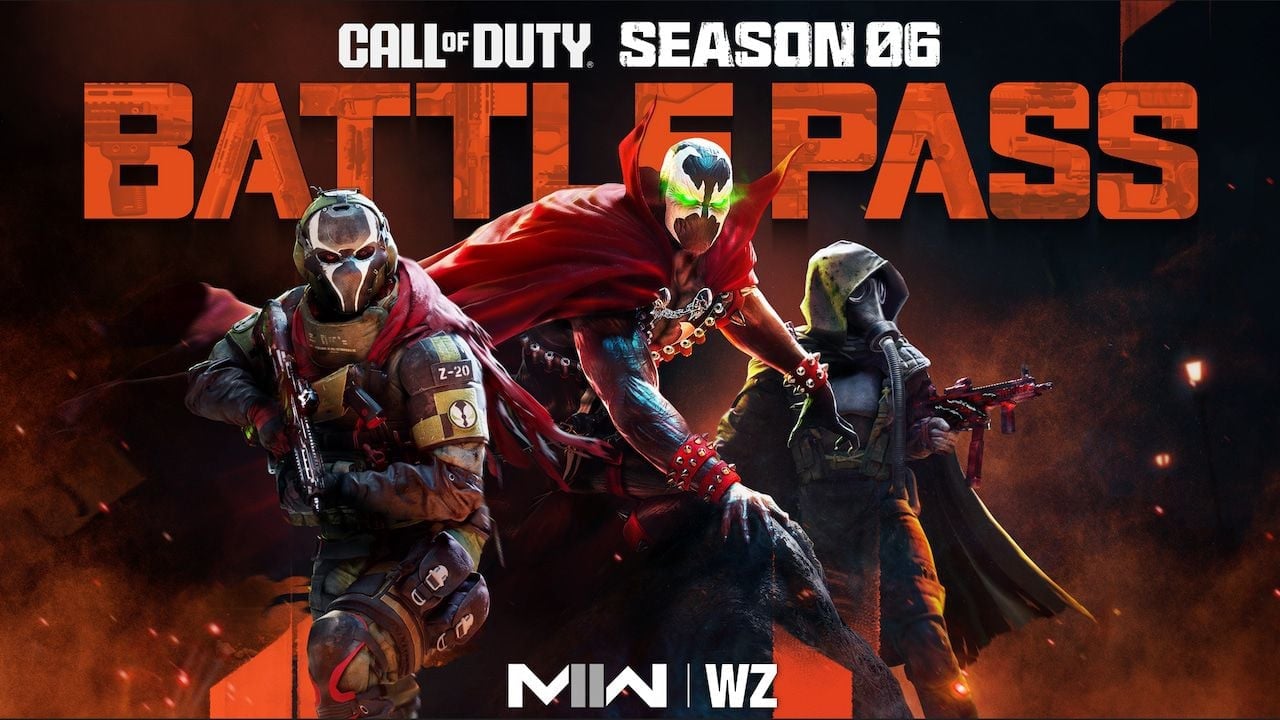 There are several things that you're going to want to know about the upcoming Season 06 Battle Pass for Call Of Duty: Modern Warfare II and Warzone. For starters, The Haunting is on its way which will responate through the Battle Pass with rewards, weapons and Spawn and Al Simmons.
You can also increase your game with BlackCell which offer the following items and rewards:
Access to the Battle Pass in addition ro 20 Battle Token Tier Skips (25 on PlayStation) , 1,400 COD Points and 100 Tiers of unlockable content.
The BlackCell Sector which includes an additional 1,100 COD Points, BlackCall Operator V4L3RIA, her Tactical Pet Megabyte, the BlackCell Reckoner weapon blueprint, and a BlackCell-themed Smoke Grenade Equipment skin.
An exclusive BlackVell Sector within the Battle Pass as well as the following: Additional BlackCell-only Battle Pass content: 10 BlackCell Operator Skins, including one for new Operator Spawn, Al Simmons, Creepy Clown, Soul Crusher, Mil-Spawn, Tier 100 Spawn, and more; six animated Weapon Blueprints; and two Vehicle Skins. Players who upgrade to BlackCell after purchasing the Battle Pass will also receive 1,100 COD Points back.
There are also a few skins that will be available including
"Creepy Clown" Skins for Fender
Battle Pass Skin: The half-demon Violator taunts Spawn by taking on the appearance of a clown, mocking him with his sharp-toothed grin.
BlackCell Additional Skin: Creepy Clown trades in his grungy look for a slick leather jacket, gilded striped shirt, and gold on black face paint.
"Soul Crusher" Skins for Mila
Battle Pass Skin: The enigmatic Soul Crusher employs noxious gasses to asphyxiate his victims into submission.
BlackCell Additional Skin: Along with new gold-plated kneepads, Soul Crusher's BlackCell Skin features etched designs lining the ends of his sleeves and cape.
"Mil-Spawn" Skins for Spawn
Battle Pass Skin: Spawn deploys in full tactical gear, combining lightweight armored plates with best-in-class mobility.
BlackCell Additional Skin: Switch from the classic black-and-white look to a menacing black-and-gold variant, the ideal skin while on a winning streak.
"Gaia" Skins for Nova
Battle Pass Skin: Not part of the Spawn universe of entities, Gaia is an ancient goddess of considerable power, and uses her earthen form to inspire ruin in her enemies.
BlackCell Additional Skin: Gaia retains her flashing red eyes against a golden face and shoulders, and her body is composed of black twisting roots.
"Disruptor"  is for Horangi
Battle Pass Skin: The crime lord responsible for the death and transformation of Al Simmons, Disruptor goes by many names and enters battle fully armored where it most counts.
BlackCell Additional Skin: Exchange Disruptor's default armor for a golden variant worthy of his stature as crime lord.
"Burned Spawn" Skins for Spawn
Battle Pass Skin: Before Al Simmons made his deal with the devil, he was deceived and burned alive. Deploy in this disfigured form of the antihero.
BlackCell Additional Skin: A golden pattern repeats over Spawn's poncho, held together by a first-rate chain and skulls.
"Nikto Spawn" Skins for Nikto
Battle Pass Skin: Nikto adopts Spawn's style with a stylized ballistic mask and tactical gear.
BlackCell Additional Skin: Dispense with the military garb and get in your enemy's face with this bombastic gold-and-black design.
"Violator" Skins for König
Battle Pass Skin: The arrogant Violator approaches in a grotesque, demonic form in pursuit of Spawn.
BlackCell Additional Skin: Deploy as "death on two legs" in an elite version of this hell-born demon.
There will also be a variety of new weapons and vehicle skins that can be earned as part of the Battle Passas well as a variety of new Operator Bundles including Ash from Evil Dead, Lilith and Inarius from Diablo IV, and more!
Stay tuned to @CODTracker on Twitter for full Call of Duty coverage.
If you're new to Call of Duty Tracker, you should know that we also offer free services such as player statistics, leaderboards, and a cosmetics database. Consider checking us out and let us know on Twitter what you'd like to see next!
Comments