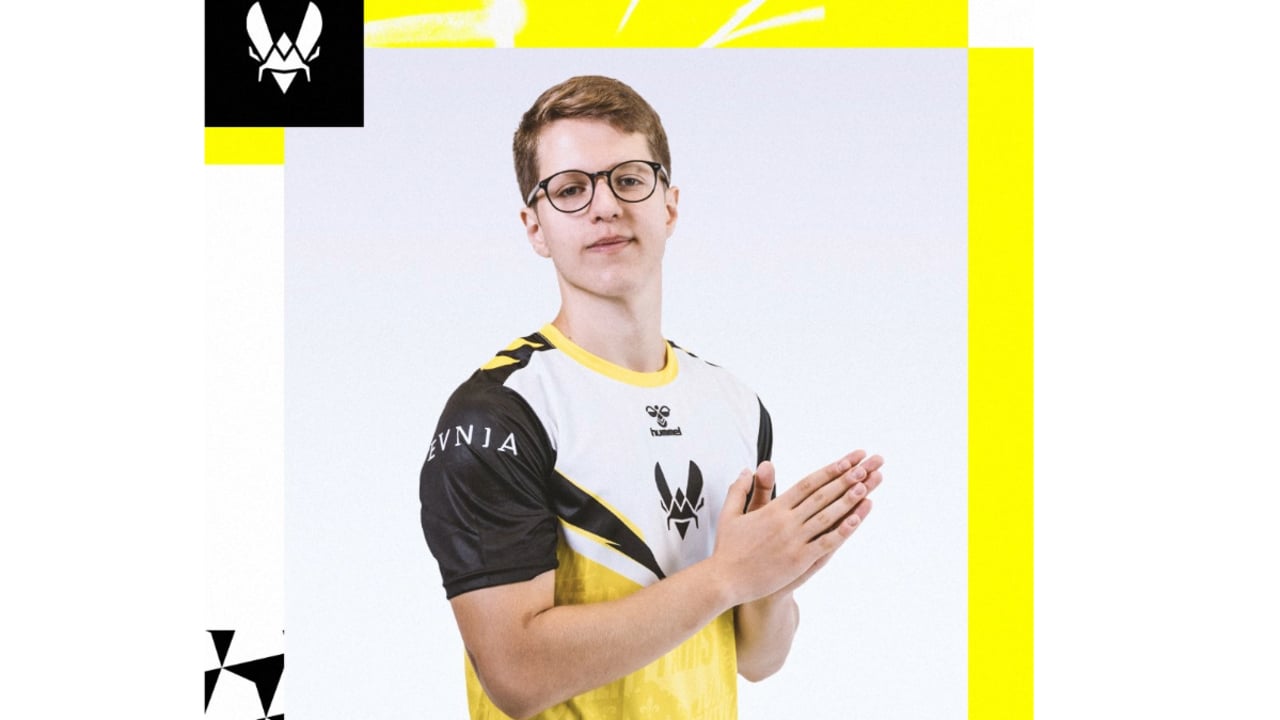 On September 16th, it was announced that Team Vitality had signed a new young duelist player in Emil "runneR" Trajkovski. The Macedonian was quickly gaining traction in the EMEA scene by being one of the fastest developing and flashiest players.
Welcome to the Hive @runneR_vlr 🐝

An incredibly smart and skilled player with a bright future ahead of him. We are very excited to watch you play on the server!#VforVictory pic.twitter.com/V2NQ378e72

— Team Vitality 🐝 (@TeamVitality) September 16, 2023
Before coming to Valorant, the 19-year-old played FPS games such as CS:GO for fun, but around 2 years ago he decided to play Valorant competitively.
runneR started his Valorant career in 2021 with Balkan Stars, which was an all-Balkan team that competed in several Eastern European and EMEA tournaments. At the time, he had strong aim but little understanding of the game, so the Macedonian kept grinding and watching other pros play to try to improve.
With them, he got his first taste of competitive experience via the VRC East (VEU) tournament series. The Eastern European circuit is known for helping develop some of the most talented players in the EMEA region, with runneR being among them.
One of the very first matchups with Balkan Stars was in the VERSUS LEGENDS III tournament, which took place in December 2021. Although they failed to win a matchup, this very first tournament was a huge step for runneR.
In January of 2022, the team competed in the VCT Challengers Qualifiers and had the opportunity to go up against some of the better teams in Europe. They unfortunately lost their first matchup 0-2 to orgless22, but runneR played extremely well, averaging an ACS of 247 against experienced players such as Fizzy, Amilwa, and avez. runneR and Balkan Stars again played in the second qualifiers for Europe VCT Challengers. This time, they won two matchups before bowing out in the Round of 64 to YONK, which included players like Yacine and bonkar.
Just a few days later, Balkan Stars competed in the VRL East: Surge open qualifiers. They beat out teams such as Podnik and Reborn in the early rounds but lost close matchups against iPon Esport and Incognito, which sent them home from the qualifiers. This was just one step of the journey, however. Fast forward to late March 2022, when the new season of VRC East started. This was the Tier 3 competition for Eastern European players and teams. Balkan Stars managed to work their way through the weekly cups and eventually qualify for the Season Finals. However, the team unfortunately lost their first matchup 0-2 to Podnik and wound up in the Lower Bracket. They won their first series 2-0 over iPon Esport, but then lost a close 1-2 game to ownage, who ultimately won the whole tournament and qualified for the next stage of VRL East.
runneR and co then played in a few different third-party tournaments such as A1 Adria League and VBL during the months of April, May, and June. Here was where runneR really cemented himself as a top player in the Balkan region, averaging good stats and continuing to grow.
June saw the start of the next VRC East Split. During this time, Balkan Stars were experimenting with their roster a little bit, substituting a player here and there. However, this did not affect runneR, as he had one of his best splits statistically and came up huge in close matchups. This was when he started to get noticed by the Tier 2 EMEA teams.
Balkan Stars was also lauded as one of the best upcoming T3 teams at the time, with five talented players and a coach who later went to T2 teams such as Dsyre Esports and Zero Tenacity. Flynn, runneR's coach at the time, said "I'd knew he (runneR) would make it out of the five. He was always the calm one, kept his composure, and was the most consistent. Additionally, he was open to ideas, trying new things, and never took offense in hearing criticism. He's a talented guy, extremely humble, and nice in and outside of the game." This shows what kind of a person runneR is.
On September 16th, 2022, runneR signed with Diamant Esports, a team who competed in VCL East.
And the final member of our Valorant roster?
It is none other than @runneR_vlr! 🧡
Welcome to the team💎#GODIA 💎 #Valorant pic.twitter.com/GPAODYnRPi

— Diamant Esports (@EsportsDiamant) September 16, 2022
This would be his first real time playing in a Tier 2 team. However, he joined during the offseason, so VCL East didn't start yet. His first official with Diamant came during the RedBull Home Ground #3 tournament, which took place in October. The team went 2-4 in the Swiss qual, missing out on a chance to advance to the closed qualifiers. A few weeks later, Diamant then played in one of the VRC East Weekly Cups. They went undefeated and beat teams such as Latin Gaming, MAJTKOMAT, and Honvéd Esport. During these games, runneR averaged an incredible ACS of 265, ADR of 180, and K/D of 1.28.
Over the next few months, runneR and Diamant continued to compete in every off-season tournament possible, trying to practice for the upcoming VCL season. This was really where runneR had some of his best games, proving himself as a top player in the East region.
In December 2022, runneR and the old core of Balkan Stars qualified for the RedBull Campus Clutch 2022 Finals, which took place in Brazil. His team, OBK, would be representing Macedonia. runneR shined throughout the whole tournament, putting up some of the best numbers with an ACS of 293, ADR of 184, and K/D of 1.41. OBK ended up placing third, after wins over Slovakia, Canada, Pakistan, Columbia, Ireland, New Zealand, and Slovenia. Their run came to an end in the Semifinals against North American team Northwood University. Even though they lost 0-2, runneR had an insane performance, boasting an ACS of 262 through both games, which was top in the lobby. More of the international scene knew about him after this tournament, with many players calling him insane.
January 12, 2023, marked the first day of the 2023 VCL East Season. Diamant ended up going 11-7 and qualifying for the Playoffs as the #4 seed. In the Playoffs, they won their first matchup 2-0 over Cyber Wolves Esports. runneR played a big part in this one, averaging an ACS of 287 through both maps. The next matchup came against Acend in the Upper Semifinals. Acend was one of the best teams in the league and region, so going up against them in a high-pressure moment like this would be a tough challenge. After three close maps, Diamant lost 1-2. With the loss, they dropped to the Lower Bracket for a chance to stay alive. Unfortunately, they lost 1-2 in this series to Anonymo Esports. runneR stepped up in both matchups, but the team was now out of the Playoffs. They placed sixth and took home $800, as well as retained a spot in the next season of VCL East.
The next season of VCL East started on April 1st. Diamant made some changes to their roster by adding Polish players paTiTek and PROFEK. The former has played on teams such as G2, Team Heretics, and Excel while the latter was an up-and-coming player who played for T3 teams such as Incognito and MAJTKOMAT. These changes proved to be valuable and Diamant went 13-5, good enough for the #2 seed. Because of their high seeding, Diamant got to skip the first phase of the Playoffs and were waiting in the second phase for an opponent. That opponent turned out to be Anonymo Esports, a team runneR and Diamant were very familiar with. Diamant put on a dominant performance and won the matchup 2-0. runneR came up huge in this matchup, averaging an ACS of 286, ADR of 195, and a K/D of 1.39 through both maps. The next matchup came against Acend in the Upper Final. In a similar repeat of the last split, Diamant unfortunately lost 1-2. They now faced themselves in the Lower Bracker for one more chance to qualify to the Grand Finals. Their fate was to be decided in a best of five matchup against Enterprise Esports. After going all five maps, Diamant lost 2-3, which knocked them out of the tournament. runneR played the best in this series, boasting a KDA of 86/78/24 through all the maps, as well as an ACS of 239 and an ADR of 152.
The Macedonian player also showed improvement from last season to this one, with his stats jumping greatly. During this time is also when he kept playing and grinding the game more, while falling in love with it and wanting to do it full time. During the summer of 2023, runneR got a message from Team Vitality about a tryout. This was a huge thing for him, as he was slowly getting to his goal. He played really well during trials and had confidence the whole time he'd end up joining Vitality, which did indeed end up happening. runneR mentioned that he was appreciative to both of Vitality's assistant coaches, Strong and Gorilla, as well as to Head Coach salah, who was the one to scout him out and notice the potential he had.
This season, Team Vitality has taken a new approach by signing younger up and coming players as opposed to just already proven T1 players. They released BONECOLD and MOLSI earlier in the off-season and are expected to sign 18-year-old Estonian player Kicks as well as former Team Liquid player Sayf. With these changes, many are expecting Vitality to be one of the top teams in EMEA.
When asked what you are most excited about to be competing in VCT, runneR said "I just want to play against all of the teams and prove that I am a good player, while dominating the other teams with Vitality. Also, I can't wait to play on a stage in front of a crowd. I believe this year is going to be good for the Vitality fans and for us. I am confident and fully trust in my team that we can be the best." The 19-year-old also said he wants to go up against Demon1 and aspas at some point, as well as against FNATIC so they can prove they are the #1 team in EU.
With a long off-season to go, runneR and Team Vitality team are prepared to put in the work and be ready for when the 2024 VCT season starts next year.
Comments